Receiver Collars - Which Electric Dog Fence Collar is Best?
TUFF Long-lasting Dog Collar with programmable levels to make training easy and very effective. Being coded to FM radio signal, it will only react to the FM radio signal from the transmitter.
So your dog walking inside the house is safe from false activations from the TV or from external radio signals like a CB radio.
Features of a Good Dog Fence Receiver Collar
Manufacturer's Warranty Includes Dog Chews (An industry first)
Fully Waterproof & Submersible for water-loving dogs.
Programmable Levels for all dog personalities and easy training.
Replaceable Long Life Lithium Battery to save you money.
Anti-Linger – Stops your dog sitting in the warning zone and draining the battery.
FastReact® - 1/8th of a second reaction time
SafeLink™ Coded Digital FM Frequency
Tri-Aerial System – Exceptional reception no matter which part of the neck it is in.
Safety Shutdown – For times your dog gets confused and stuck in the correction zone.
Cross-Compatible - Works with all Pet Barrier transmitters.
Click on any of these icons to see the videos and more information
What is a Dog Fence Receiver Collar?
The Receiver Collar is used to train the dog to stay away from the FM Radio Signal produced by the Transmitter which goes over the Wire.
The Dog's Receiver Collar will react to the FM Radio Signal by giving a Mild Static Pulse. You can adjust the levels to train your dog to ignore the temptation to escape.
Chat to an Expert, Plus... get our FREE Dog Fence Information Pack
Simply tell us a bit about your dog and what's been happening.

How does the Dog Fence Receiver Collar work?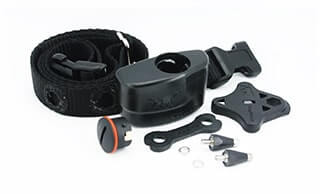 The collar works by reacting to the signal from the boundary wires and activate the warning beep in the warning zone. If your dog walks past the warning zone, the Electronic Dog Fence Receiver Collar will give the dog a static correction at the level you set the collar to.
The correction is delivered through the 2 small contact posts that rest against the dog's skin - with optional GentleFit™ contact posts available. This gives you total control over each dog's training and correction level.
The Receiver Collar is programmed to detect the Radio Signal from the boundary wires and react. We have 2 sections in our signal.
The Warning Zone: This is where the collar will let off a beeper for 15 seconds before a quick 'Pulse'.

The Correction Zone: This is where the collar will give the dog the 'Pulse' at the level you choose.
Whatever the size, whatever personality your dog has, there's an Electric Dog Fence Receiver Collar that's perfect for you. Our collars come in 2 sizes to fit all dogs comfortably and snug and a battery life of up to 2 years.
The Pet Barrier Dog Fence Collar is fully waterproof and submersible. It has a 3 years manufacturer's warranty that includes coverage for Dog Chews (an industry first). This standard range of invisible dog fence collars comes with 5 user programmable levels and a battery life of up to 2 years! It features SafeLink™ Coded Digital FM Frequency that ignores other radio signals around your dog to prevent false activations.
A Dog Fence Collar comes as part of the Pet Barrier Dog Fence for large properties and the Pet Barrier Grounds Keeper Hidden Dog Fence for small properties.
How Reliable is it?
The Receiver Collar is a separate and independent unit. It doesn't wait for the transmitter to tell it what to do and has a super-fast reaction time of 1/8th of a second.
This means that even if your dog charges towards the boundary, he will get a static correction from the collar very quickly.
Unlike other systems where the Receiver Collar is controlled by the Transmitter. It causes slow reaction time and the dog can skip across the boundary if they try.
Reaction time

Adjustable Levels

Detection Aerials

Battery life

The durability of the Collar
All of these are crucial to the long term success of any system. And we've got it all covered.
We have wide options of electric dog fences that surely fit your dog types and different areas that you want to be safe such as
garden beds
,
small property
,
large property
, and even
indoor property
. Each type has its own distinct features that offer a great deal for both of you and your dog.
If you are still having a hard time about electric dog fences give us a call on our 7 Day Hotline 1-300-(THE-DOG) 1-300-843-364 do not hesitate to CONTACT US