Pet Barrier Dog Fence for Small Dogs
SAFE FM-Coded Little Dog Fences
Your dog problems maybe similar to our dear friend, Lisa and her dogs- Jack and Molly. Read their story here and find out how these troopers made it through.
Like Lisa, you must be tired of looking after your dogs who are often escaping and running around outside your property or worst your dogs are ruining your garden beds! It is time then to get the right Pet Barrier Electric Dog Fence for you.
Pet Barrier Electric Dog Fence Kit for Small Dogs
Important Features of the Pet Barrier Dog Fences that can help you solve your escaping dog problems:
• Built in Surge Protection on the power adapter - lightning and other power surges won't destroy it!

• Unique FM Coded Digital Frequency from the transmitter– outside signal like TV and other radio unit will not interfere with your Pet Barrier Dog fence unit

• External surge protection box to protect the transmitter (on 1 acre+ kits)

• Our warranty covers any fusion damage to the dog fence transmitter.

• 2mm fence wire coated in HDPE – For strength and UV protection- you can always buy an extra wire if your property is big.

• Safe dog fence collar unit that has a chew warranty- each kit comes with 1 standard dog fence collar but you can always upgrade to a premium collar. Adding up to 3 extra collars for your other dogs is also an option you can do.
It's Easy to Buy a Dog Fence... But Is It The Right One For You?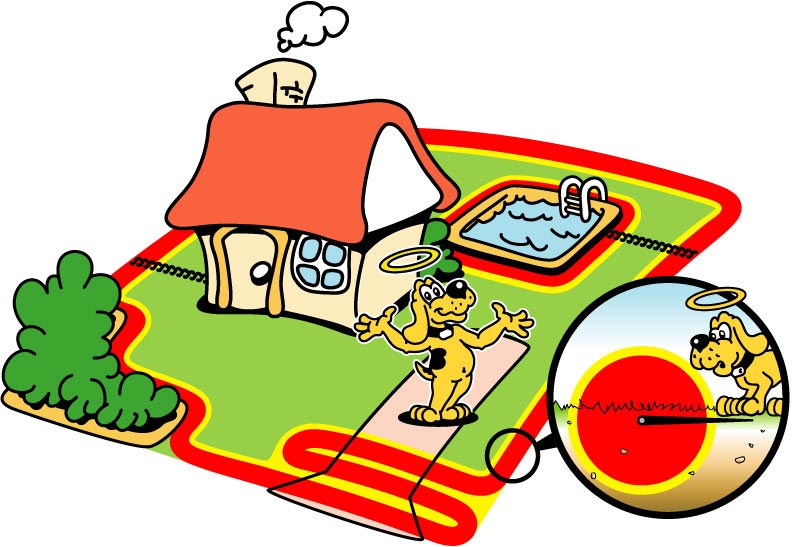 Getting the RIGHT dog fence for small dogs is important but knowing how to get it could be tedious. The Dog Line can hold your hand by giving you an expert and FREE advice on what electric dog fence to buy. We compiled a comprehensive dog fence buying guide to help you learn more about the different dog fences available to you. When you avail one of our dog fencing kits, you get a 7-day helpline support.
With our Pet Barrier electric dog fences you can give your small dogs all the freedom of the back yard with a safe radio signal to keep them away from the fence - you get full control over the dog fence radio signal and the receiver collar which is fitted well to your small dog.
Dog Fence Receiver Collar Features:
• The Pet Barrier Electric Dog Fence for Small Dogs have absolutely NO SIGNAL BOUNCE! You can even adjust the depth of the signal to give your dog more room AND... adjust the strength of the receiver collar to make training easy peasy for you and your dog.

• A standard dog fence collar has 5 levels of stimulation which you can adjust according to your dog's bark training needs.

• A premium dog fence collar on the other hand has 8 levels of stimulation

• Covered by a one time chew warranty

• You can add up to 3 dog receiver collar in a single dog fence kit
Ready to Be Amazed By Your Small Dog Electric Dog Fence?
Click the Dog Fence Quote button above and receive your FREE quotation with an expert advice from me! I can't stress enough how important it is for us to know the details of your dog problems, fencing needs and property specifications so we can give you the RIGHT electric dog fence.
If you still have questions in mind, here are 3 things that may help you decide:
You can also directly speak with one of our staff or myself by calling our Seven Day Help line 1300 THE DOG (1300 843 364). We will be happy to help you with your inquiries.

Best Deal Guaranteed

Free Training Guide

Shipped Same Day

'Trade Up' - Trade In...

6 Month Trade In Guarantee
Small Dog Fence Reviews
Pet Barrier Dog Fence - Perfect Containment Kit for Small Property
Modern pet barriers are in and more dog owners are choosing this product over traditional fences. This is what makes the dog fence for small property a perfect containment kit. Dog fence kits are handy and easy to install. You do not really have to spend a great deal of money for this particular product. Ask people who have tried this tool and you will certainly get an affirmative answer.

How to create a Radio Dog Fence DIY
Escaping dogs have made it in to the news lately. The stories of people being attacked by dogs has saddened the nation and highlighted the need to ensure all dogs are contained effectively. Send this to YOUR Face Book Friends here...

Invisible Dog Fence: A Safe Way to Fence Your Dog
Keeping a dog in an invisible dog fence area can be the solution to your escaping dog problems. Dog fences have holes and other escape routes that a crafty dog can sniff out before the owners can find them.