Dog Fence Wire Layout - Garden Beds and Gates
We have spent precious time on our beautiful garden beds, we do not want our dogs to dig'em up. There is 6 Dog Fence Wire Layout that we can show you and in this article, we will be talking about a layout that you can easily add on any other layout to isolate garden beds, fish ponds, and gates.
Click on any of these icons to see the videos and more information
Using a Twisted wire design can isolate garden beds, fish ponds, and gateways
Isolating Garden Beds and Gates Fence Layout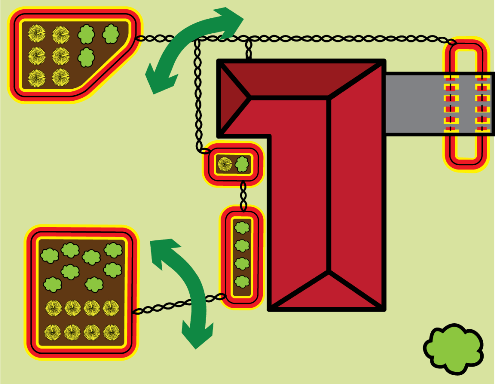 Chat to an Expert, Plus... get our FREE Dog Fence Information Pack
Simply Tell Us a bit about your dog and what's been happening.
When you open up the loop you create the signal to keep the dog away...
By twisting the wires you can run a twin pair around the property from garden bed to garden bed

Your dog can walk across 2 touching wires (but not 3)

The Garden Bed and Gate layout can be integrated with other layouts
Make sure that the wire has a continuous loop that goes back to the transmitter. If you are burying the wire, it should be at least one to three inches below the ground so that you won't trip over the wire or get caught and cut by the lawnmower while gardening.
Click here to learn more on how to twist the wire.
We have wide options of electric dog fences that surely fit your dog types and different areas that you want to be safe such as garden beds, small property, large property, and even indoor property. Each type has its own distinct features that offer a great deal for both of you and your dog.

If you are still having a hard time about electric dog fences give us a call on our 7 Day Hotline 1-300-(THE-DOG) 1-300-843-364 do not hesitate to CONTACT US