Dog Fence Wire Layout - Full Dog Fence
Deciding what dog fence layout you should be making in your property depends on where you would want your dog to have freedom to roam around. Maybe you would like them only on the back yard, or you have a fenced property and only want the garden beds and your gate to be secured, there is a perfect layout you can do to your property. There are 6 Dog Fence Wire Layout that we can show you and in this Article we will be talking about the Full Property Dog Fence Layout.
Click on any of these icons to see the videos and more information
Full Property Dog Fence Layout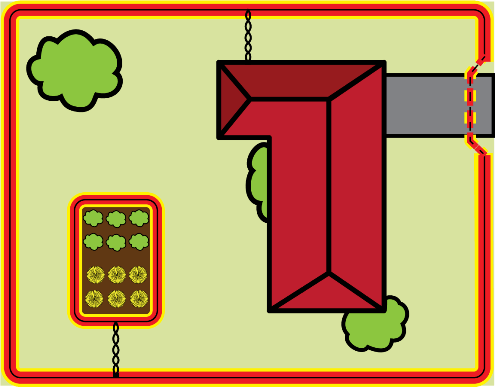 Chat to an Expert, Plus... get our FREE Dog Fence Information Pack
Simply Tell Us a bit about your dog and what's been happening.
The Full Dog Fence speaks for itself
A complete enclosure around your property giving your dog full freedom

Your Dog can roam around the front yard, back yard and everything in between

Best suited for small to medium-sized dogs that are easier to train and more obedient
A quick direction for this places the transmitter inside the house, run the wire around the property and then back to the transmitter. Twisting the wires connects to the transmitter will enable your dog to run over it safely without him getting a correction.
NOTE:
Remember that corners should be rounded since right angles tend to distort transmitter signals

Make sure that the wire has a continuous loop that goes back to the transmitter

If you are burying the wire, bury it at least 1 to 3 inches below the ground so that you won't trip over the wire or get caught and cut by the lawnmower while gardening

Have an allowance for breaks and expansion joints

We have wide options of electric dog fences that surely fit your dog types and different areas that you want to be safe such as garden beds, small property, large property, and even indoor property. Each type has its own distinct features that offer a great deal for both of you and your dog.
If you are still having a hard time about electric dog fences give us a call on our 7 Day Hotline 1-300-(THE-DOG) 1-300-843-364 do not hesitate to CONTACT US