Home
> Affordable Citronella Spray Refill Canister for Bark Collars
Citronella Spray Bark Collars - Refill Canisters and Cartridges
Don't run out of Citronella Spray - remember that consistent and persistent training determines your success in eliminating your dog's nuisance barking.
It pays to have an extra canister refill for your dog's Citronella Spray Bark Collar. Sooner or later you'll run out of sprays - you don't want your dog to get confused about his/her bark control training.
Stay consistent with your Citronella Bark Collar efficiency and maintain the peace and quiet in your home and in the neighbourhood.
Get Your Citronella Spray Refill Here:

Aussie Buyer Protection
Trouble Free Guarantees
Lowest Price / Best Deal
7 Day Support Line
Proud Aussie Family Business (Since 2003)
Free Dog Training Guide
Supporting Animal Rescue
Have a Question? Prefer to Order by Phone?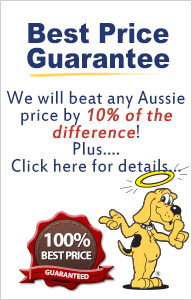 Best Deal Guaranteed

Free Training Guide

Shipped Same Day

14 Days 'Trade Up'

14 Day 'Trade up' Guarantee