Educator Remote Dog Training Collars
The Educator range, formerly called Einstein, is a range of Remote Dog Training Collars by E-Collar Technologies Inc. in the USA. They have been a popular manufacturer of high quality Remote Dog Training Collars and Bark Control Collars over the years.
E-Collar has a wide selection of Remote Dog Trainers and we offer you two of the bestselling Educator models in the market. They both feature 800m signal range capacity, waterproof and submersible receiver collars, lost transmitter beepers, remote controlled night lights and remote and Quick Charge Li-Poly batteries.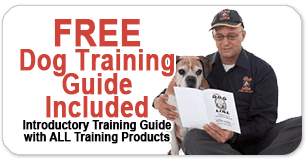 Best Deal Guaranteed

Free Training Guide

Shipped Same Day

'Trade Up' - Trade In...

6 Month Trade In Guarantee
Remote Dog Training Reviews
Responding to a recall is indeed one of the crucial safety measures a dog needs to learn. However, it can be difficult.

Training your new puppy can be challenging but if you want to raise a good dog, it is important that you spend time and effort on training your pup and prevent difficult dog problems in the future.

Properly introducing a new dog into your home is as important as socialising that same dog into the household and even outside the family circle - this can be more challenging than socialising a puppy.