Home
> Dog Collar Batteries
Extra Dog Collar Batteries
Dog Fences, Remote Dog Trainers and Bark Collars all have battery operated collars. Sooner or later, you're going to need to replace them so your dog doesn't escape that fence, your training session doesn't get interrupted and your dog's barking problem gets solved.

We've consolidated all the necessary batteries you need for whatever collar that is in our product catalogue. We handpick high quality batteries to use in our products and some are provided by the manufacturer's themselves.

Best Deal Guaranteed

Free Training Guide

Shipped Same Day

'Trade Up' - Trade In...

6 Month Trade In Guarantee
Dog Collar Battery Reviews

Aussie Buyer Protection
Trouble Free Guarantees
Lowest Price / Best Deal
7 Day Support Line
Proud Aussie Family Business (Since 2003)
Free Dog Training Guide
Supporting Animal Rescue
Have a Question? Prefer to Order by Phone?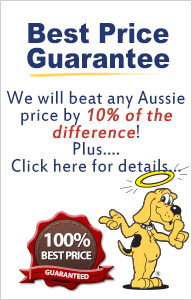 Best Deal Guaranteed

Free Training Guide

Shipped Same Day

14 Days 'Trade Up'

14 Day 'Trade up' Guarantee