Home
> SportDOG Electric Dog Fences
SportDOG Electric Dog Fences – Stubborn Dog Fence Systems
The SportDOG brand is best known for Remote Dog Trainers and Bark Control Collars. Even though they focus on those two markets, they also have their own Electric Dog Fence available below. SportDOG is owned by their parent company, Radio Systems Corporation. Radio Systems also own other companies that sell other dog related product such as Innotek, PetSafe and Staywell.

SportDOG currently only has 1 model of Electric Dog Fences and it's targeted at Stubborn Dogs. The system uses high output static corrections to be able to handle stubborn dogs where most regular and basic electric dog fences may fail. The receiver collar also features adjustable levels so if your dog has a slightly more stubborn attitude, you can increase the level and continue with training.

The Static Corrections that our receiver collars use may be higher in intensity compared to regular receiver collars but they are still very safe. Stubborn dogs may feel the stimulations from regular collars but they will naturally ignore those levels. Despite the high levels of stimulations, it is always recommended that you start at the lowest level and gradually increase if your dog does not respond to the stimulations correctly.
Just like other Electric Dog Fences, the SportDOG brand of Electric Dog Fences also work the same way. They also use a radio signal that travel through the dog fence wire and emits it outwards to create an invisible barrier. The signal's width or depth can also be adjusted on the transmitter so you can ensure that your dog does not try to sprint through the barrier.

Once the dog fence wire is laid out and the signal is live, the included receiver collar in the kit receives the signal when it comes near the signal field and sounds a warning tone indicating a static stimulation will be delivered if your dog goes further. If your dog walks past the warning zone and into the correction zone, the collar will deliver the static correction which means the dog must back away. Proper training will spell success and both you and your dog can be happy with the security and freedom.

Best Deal Guaranteed

Free Training Guide

Shipped Same Day

'Trade Up' - Trade In...

6 Month Trade In Guarantee
Electric Dog Fence Blog Posts
Dogs digging up garden beds is no surprise. However, your dog destroying your garden can really be a disaster - imagine thousands of dollars spent on fancy plants, teared up by your pooch! So, we compiled 5 very useful tips to stop your dogs from digging up and getting into your garden beds, one of these is getting an awesome dog-proof fencing and having an effective dog-proof garden design. See the video below.

If you are ever wondering how to join, fix or repair broke Electric Dog Fence Wire, then check out this step by step guide. Firstly for a electric dog fence kit, get a wire that is TUFF, and can cope a bit of abuse from the natural elements like the heat of the australian sun.

Canines are escape artists by nature. Escaping is a serious problem for both you and your dog, as it can have tragic consequences.
If you have an off-leash dog in your yard, he is in danger of being hit by a car, getting injured in a dog fight or being hurt in several other ways that we wouldn't want to imagine. Escaping your property may lead to this and I'll explain why they do it.

Aussie Buyer Protection
Trouble Free Guarantees
Lowest Price / Best Deal
7 Day Support Line
Proud Aussie Family Business (Since 2003)
Free Dog Training Guide
Supporting Animal Rescue
Have a Question? Prefer to Order by Phone?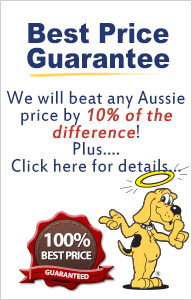 Best Deal Guaranteed

Free Training Guide

Shipped Same Day

14 Days 'Trade Up'

14 Day 'Trade up' Guarantee