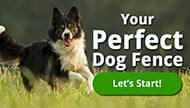 The SportDOG brand is best known for Remote Dog Trainers and Bark Control Collars. Even though they focus on those two markets, they also have their own Electric Dog Fence available below.
SportDOG is owned by their parent company, Radio Systems Corporation. Radio Systems also own other companies that sell other dog related product such as Innotek, PetSafe and Staywell.
SportDOG currently only has 1 model of Electric Dog Fences and it's targeted at Stubborn Dogs. The system uses high output static corrections to be able to handle stubborn dogs where most regular and basic electric dog fences may fail.
The receiver collar also features adjustable levels so if your dog has a slightly more stubborn attitude, you can increase the level and continue with training.
The Static Corrections that our receiver collars use may be higher in intensity compared to regular receiver collars but they are still very safe. Stubborn dogs may feel the stimulations from regular collars but they will naturally ignore those levels.
Despite the high levels of stimulations, it is always recommended that you start at the lowest level and gradually increase if your dog does not respond to the stimulations correctly.