TUFF Invisible Dog Fence Wire Strength - Comparing 3 Electric Dog Containment Wires
To keep your dog safely contained within your property, you need a dog fence kit with good quality wire. This video tests the strength and resilience of our dog fence wire. Here, we use a 7 strand 1mm copper core wire with HDPe coating for a 20year UV rating. With GOOD QUALITY WIRE; your dog and your investment will never be on the loose.
Click on any of these icons to see the videos and more information
Cheap Electric Dog Fences Lacks strength and Fails easily
Sure, other people sell Dog Fence Kits as well and it's called by many different names. It works the same and looks the same but they actually aren't the same.
Some of our customers have already bought different kinds/brands of electric dog fences and failed, their dogs can still escape and contacted us for help. The give away to these kinds of system would be the wires. The cheaper the electric dog fence the more poor quality their wires are.
As seen in the video, really thin wires and UV stabilized pvc wires are really brittle and will degrade easily when exposed in the scorching Australia Sun. The sun damage on the coating will weaken the strength of the wire and just a simple tug and poof its broken, and when your wire breaks your dog can easily escape.
"If you buy on the price you buy TWICE"
As a sample on how strong our TUFF Dog Fence Wire is in comparison to other dog fence kits, we tied it on a fence where I pulled it using my full weight and it did not even budge.
Next, the wire is laid on the ground and smashed a number of times by a steel shovel. Surprisingly; after all the smashing and pounding; the wire gets kinked up and with visible tear marks a bit through the housing but definitely not through the copper itself. Nevertheless; the wire remained intact without any real damage and did not break.
7 Strand Copper Core – Extremely Reliable

20 Year UV Rating for HDPe Coat

Does not Require to be Buried

Initial 100m Included on our Electric Dog Fence Kits (Unless otherwise stated)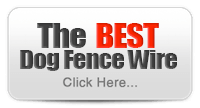 Our High-Quality Dog Fence Wire does not need to be buried unless you want to hide it from sight. The HDPe is a protective coating with a 20 year UV rating that protects our wire from the elements which mean it can be left hanging on the fence or simply above the ground in the open. PVC or UV Stabilised in comparison will break down in the Australian sun. Wire damage and breakage are the biggest cause of concern for Electric Dog Fence owners.
We have wide options of electric dog fences that surely fit your dog types and different areas that you want to be safe such as garden beds, small property, large property, and even indoor property. Each type has its own distinct features that offer a great deal for both of you and your dog.