But not if your Dog Fence Receiver Collar has a Chew Warranty on it. Don't spend hundreds of dollars on a dog containment system that does not give you full warranty. Get a system that is reliable and also offers the dog fence collar chew warranty.
Our Dog Fence collar is SO Tuff that if a dog can chew the receiver unit, it is covered by a Chew warranty (one per dog).
Dogs simply love to chew, that is why the Pet Barrier Dog Fence Collar is made of a polycarbonate material - a very strong and durable material, used in bullet-proof glass. So, your receiver collar is protected from your dog's fangs. However, if your dog does chew it - it is still covered by the chew warranty for replacement.
Now, as you saw in the video above, our client Christine, took the collar off her dog and placed on the table where her dog got hold of it… and when she woke up in the morning, her two dogs had chewed up the strap. But… were unable to chew the receiver (the expensive part).
Folks, if you take the dog fence collar off your dog, always remember to secure the collar in a place where your dog can't reach it - dogs just love to chew - so try not to give them the chance.
Dogs loved to chew and being cheeky are the primary reasons why we have this FIRST-in-the-industry Chew Warranty on our Pet Barrier Invisible Dog Fence Collars.
The second reason is for you to have such a great and reliable dog containment system that gives you peace of mind from dog escaping the drama and chewed collars drama.
PLUS, this warranty saves you more money in the long run BECAUSE once again, it will cost you about $200 just to replace a chewed up dog boundary collar.
So, if you are in Australia… and if you are looking for a trusted and proven Electric Dog Fence system, consider a system that includes Chew Proof receiver collars and other excellent safety features.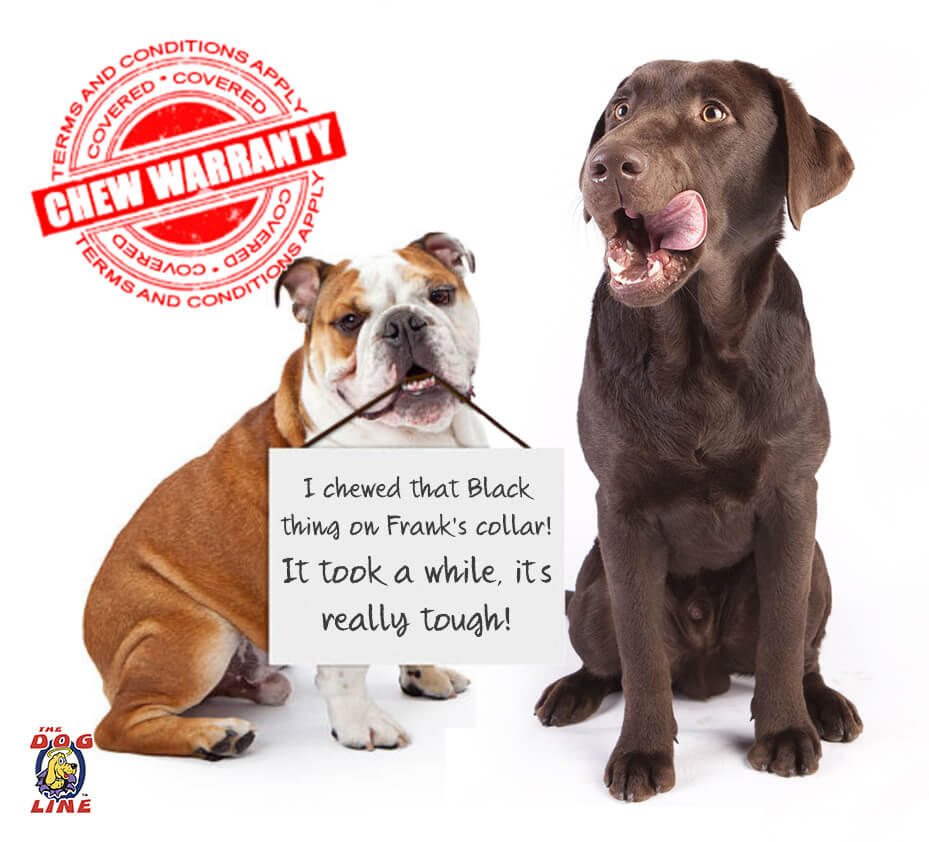 You may need to give your pooch some dental chews or dog toys to enjoy… and turn his attention away from the dog fence collar.
Chew Warranty applies only to Pet Barrier Receiver Collars -  One Time Replacement Only

Consumable Items are NOT Covered

Battery

Straps

Probes

Bone and Washers

Battery Caps

The Chewed Product including the Circuit Board and remaining FibreGlass Infused, PolyCarbonate housing must be returned to us

Service and Same Day Swap over Fee applies
If you have 2 or more dogs, the chances of the dog fence collar getting chewed up is higher.
However, the Chew warranty could pay for itself within months of owning the Pet Barrier Dog Fence system.
Christine (on the video) shares that her dog containment system is excellent - she has 2 dogs but got no fences at all and her labrador, Bella, keeps on dashing through the door to escape.
So, she's often tied up when outside… but not anymore since the Invisible Dog Fence was installed.
Now, Bella's sibling is her accomplice in chewing things off - the receiver collar got their interest when it was off guard!
Had Christine bought a different system than ours, she could have paid a painful amount of $180 - $200 just to replace the receiver collar.
Thus, get a dog containment system that has Chew Warranty on the receiver collar ESPECIALLY if you have multiple dogs.
If your dog STILL gets to chew our super tuff dog fence collar (especially if your dog has his/her accomplice sibling), we will replace the chewed collar one time, per dog, without any charge.
So, you don't have to spend about $200 just to get another one for your invisible dog fence system.
The warranty covers any manufacturer defects - lifetime coverage for premium collars such as the Pet Barrier Premium R9 and the Mini R7. Then, 3 years coverage for the standard collars such as the FM1200 and the FM1200 Mini. This includes the chew warranty per collar.

 
You need a waterproof invisible dog fence collar for your water-loving pooch - this will give you instant peace of mind whenever your dog is in the backyard playing with the sprinklers... or in the rain… or in the pool area.
So, you don't have to fear any malfunction since the Pet Barrier Dog Fence Collars are designed to be submersible in water.
We are indeed proud of the replaceable lithium battery included in the Pet Barrier Dog Fence Collar kit since it has been proven to last really long. This saves you more money in the long run since the battery only costs $20 to replace it.
We also recommend having a dog fence collar with a replaceable battery instead of a rechargeable one because if the battery in the rechargeable collar dies out, you'd have to purchase a whole new collar that may cost you about $200 or more… (that's after 2 years).
Whilst the dog boundary collar with a replaceable battery, if it runs out, you only have to pay about $20 (every after 2 years).
Most cheeky dogs often discover that they can drain out the battery on their collars - the static pulse correction will stop and they will be able to escape again.
Not with the Pet Barrier Invisible Dog Fence Collars, though. These collars are designed with the Anti-Linger Technology - this gives your dog static pulses instead of just the warning beeps to keep him/her away from the warning zone if he/she attempts to linger there.
Just so you know, once your dog gets near to the warning zone, the collar will activate a warning beeping tone and will give your dog a static pulse correction every 15 seconds to prevent your pooch from staying in such a zone. Thus, saving more battery.
The Premium Dog Fence Collars such as the Pet Barrier Premium R9 and the Mini R7 include 8 levels of correction. While the standard collars such as the FM1200 and the FM1200 Mini feature 5 levels of static correction.
These programmable levels will certainly help you train your dog for better boundary recognition as you determine your dog's recognition level of the static pulses… and let the corrections adapt to your dog's temperament.
This unique safety feature ensures that the collar will not interfere with other radio signals such as your TV and mobile phones, so it will not make your TV go fuzzy if your dog happens to pass by the TV set.
Also, the dog fence collar will not be interfered with by other stray radio signals - this ensures as well that your dog will NOT get 'zapped' by the signals from other electronic devices. Your Pet Barrier Electric Dog Fence Collar will only react to the radio signal running through the boundary wire from the transmitter.
This is another advanced safety feature that prevents your dog from running through and leaping through your boundary wire especially if you do not have an actual fence.
The 1/8th of a second reaction time ensures that your dog gets the warning beeps and static pulse correction as he/she rapidly goes near your boundary wire - effectively deterring your dog from escaping.
This is an advanced feature that ensures that the dog fence receiver collar can still detect the radio signal from the boundary wire, no matter how the collar is placed on your dog's neck.
If you have an extremely playful dog, the collar may be moved sideways or upside down - the Tri-Aerial System will help ensure effective detection of the radio signal to efficiently deter your dog from escaping the boundary.
This safety feature built to prevent overcorrection, it allows dogs to adjust once they get stuck in the correction zone - this usually happens during the first stages of boundary training.
So, as soon as your dog gets enough amount of static pulses as correction, the collar will recognize that your dog is probably stuck. It will shut down after 15 seconds. Then, your dog will receive small static pulses every 15 seconds as your dog exits from the correction zone and back to the safe zone.
There is no need to bury our wire... Simply hang it on the fence and take it all with you if you move house - 7 Strand Copper core with a HDPe Coating and a 20 year UV rating. How much wire do I Need?

We have wide options of electric dog fences that surely fit your dog types and different areas that you want to be safe such as garden beds, small property, large property, and even indoor property. Each type has its own distinct features that offer a great deal for both of you and your dog.
If you are still having a hard time about electric dog fences give us a call on our 7 Day Hotline 1-300-(THE-DOG) 1-300-843-364 do not hesitate to CONTACT US