The Importance of Lightning Strike Protection & WARRANTY on Electric Dog Fences
Lightning strike is the number 1 cause of electric dog fence damage. Sadly, most of invisible dog fences out there do not have lightning strike and power surge protection - this causes consumers to spend a lot of money after a transmitter damage.
This is why we offer lightning strike & power surge WARRANTY on our Pet Barrier Electric Dog Fence.
Paul experienced fusion damage and had to replace 2 of his dog fence systems that he got before which are not covered with lightning strike warranty.
Now, he wants to make sure that his transmitter is guarded.
So, he switched to our system because we have the green earthing wire and 3 pins on our power supply which are designed to protect the transmitter from power surges - his dogs are now secured than ever.
Benefits of Pet Barrier Invisible Dog Fence Lightning Strike Warranty:
Dog containment systems are prone to damages during lightning strikes and power surges due to the wires that we lay out across the property. These systems can easily get damaged when you don't have the right equipment to use and no damage coverage at all.
So, look out for a dog fence system that covers you from often unavoidable lightning strikes and power surges.
Take Advantage of the Pet Barrier Invisible Dog Fence Warranty & Guarantees NOW.
Don't make a mistake of wasting your money and risking your dog's safety on cheap and unreliable Electric Dog Fence systems - fill in the form & chat to an expert.
This is very important. Not just for your dog's safety but also for your wallet.
A damaged electric dog fence transmitter would cost you $300 - $500 and another $100 - $300 should your dogs escape and end up in the dog pound to just basically get them out.
Our client, Ian, had a fusion damage on his dog fence transmitter after it was hit by a lightning strike.
He was able to have his transmitter replaced by us and he saved about $250 for being covered by the Pet Barrier Lightning Strike and Power Surge Warranty.
Had he purchased the dog fence system from somewhere else that does not offer this kind of guarantee, it could have caused him even more money.
Therefore, investing on a durable and reliable invisible dog fence such as the Pet Barrier Electric Dog Fence will not only save you money in the long run but also give you peace of mind.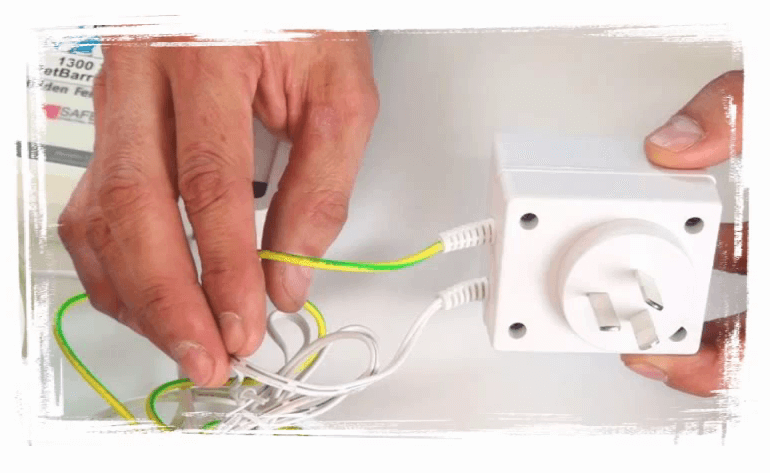 Pet Barrier is an invisible dog fence that is manufactured with power surge protection - it has 3 pins on the power transformer and a green earthing wire.
These components work together to divert all excess energy, in cases of lightning strike or power surges, away from your dog fence transmitter circuit board.
These advanced features of the Pet Barrier system help us offer the Power Surge Protection or the Lightning Strike Warranty to all of our clients.
Getting the right Electric Dog Fence (that can prevent lightning strike damages) is crucial - you have to ensure excellent quality to save your money.
Apparently, there are always false advertisements that will rip you off in the end. That is why we explain each component of our invisible dog fence, you can even Build Your Own Package to make sure that your dog containment system is built for your needs.
The Pet Barrier Dog Fence system has more than the lightning protection guarantee.
It also covers other essential things to look out for such as the the Receiver Collar (in case it gets chewed by your dog), the Battery (that lasts up to 2 years) and the Power Supply (prevents false zaps for your dogs).
There is no need to bury our wire... Simply hang it on the fence and take it all with you if you move house - 7 Strand Copper core with a HDPe Coating and a 20 year UV rating. How much wire do I Need?

We have wide options of electric dog fences that surely fit to your dog types and different areas that you want to be safe such garden beds, small property, large property and even indoor property. Each type has their own distinct features that offer a great deal for both of you and dog.
If you are still having a hard time about electric dog fences give us a call on our 7 Day Hotline 1-300-(THE-DOG) 1-300-843-364 do not hesitate to CONTACT US

Best Deal Guaranteed

Free Training Guide

Shipped Same Day

'Trade Up' - Trade In...

6 Month Trade In Guarantee