Home
> Wireless Electric Dog Fences
Affordable Wireless Electric Dog Fences - The Best in Australia
Wireless Dog Fence systems are mostly portable. Thus, it brings more convenience to pet owners containing their dogs in just one area to the next.

Bid goodbye to pulling leads against your dog… or having to put your dog in a small confinement… or having to tie your dog to a tree or a post when both of you are out and about

Portable Wireless Dog Fences can really come in handy if you want to contain your dog in a bigger space, without any wires or leads or cages, during an all day picnic at the park, or at the beach, or when you visit a friend's house
BEST when you love to travel with your pooch.
YES! They do work.
Wireless Dog Fence Reviews have revealed that these type of dog containment systems bring so much comfort and ease to dog owners containing their pets.
Unlike the wired electric dog fences, the transmitter of the wireless dog fences emits a signal in all directions without have to connect and set up wires - you can still easily set the signal depth to widen the containment area.
The receiver collar for the wireless dog fence will then react to the signal as your dog goes near the boundary - it may give your dog a warning tone as a sign that he's approaching the correction zone. As your dog goes nearer to the boundary, he/she will receive a stimulation - a harmless static pulse to deter your dog from escaping.
The stimulation levels can also be adjusted or programmed based on your dog's temperament and training needs.
Here for you and your dog,
Colin Seal

Best Deal Guaranteed

Free Training Guide

Shipped Same Day

'Trade Up' - Trade In...

6 Month Trade In Guarantee
Electric Dog Fence Blog Posts
Dogs digging up garden beds is no surprise. However, your dog destroying your garden can really be a disaster - imagine thousands of dollars spent on fancy plants, teared up by your pooch! So, we compiled 5 very useful tips to stop your dogs from digging up and getting into your garden beds, one of these is getting an awesome dog-proof fencing and having an effective dog-proof garden design. See the video below.

If you are ever wondering how to join, fix or repair broke Electric Dog Fence Wire, then check out this step by step guide. Firstly for a electric dog fence kit, get a wire that is TUFF, and can cope a bit of abuse from the natural elements like the heat of the australian sun.

Canines are escape artists by nature. Escaping is a serious problem for both you and your dog, as it can have tragic consequences.
If you have an off-leash dog in your yard, he is in danger of being hit by a car, getting injured in a dog fight or being hurt in several other ways that we wouldn't want to imagine. Escaping your property may lead to this and I'll explain why they do it.

Aussie Buyer Protection
Trouble Free Guarantees
Lowest Price / Best Deal
7 Day Support Line
Proud Aussie Family Business (Since 2003)
Free Dog Training Guide
Supporting Animal Rescue
Have a Question? Prefer to Order by Phone?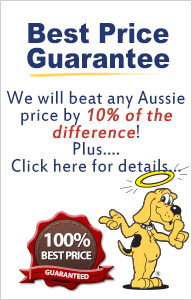 Best Deal Guaranteed

Free Training Guide

Shipped Same Day

14 Days 'Trade Up'

14 Day 'Trade up' Guarantee