Home
> Dog Training Extra Collars
Remote Dog Training Extra Collars
Medium Dog Trainers are designed for larger dogs, sporting and working activities. Distances usually range from 200m to 800m. Featuring greater durablility and (usually) rechargeable batteries they are ideal for taking your dog to areas where you may want to have him off the lead but still have contact if you need it. A large dog needs exercise yet being off lead may not keep him safe.
Rent a dog remote training collar before buying it without any extra cost. Train your dogs properly to stop dogs digging in the garden and under property, keep the dog off the flower beds, stop dog jumping the fence and avoid dogs unnecessary barking. Our dog remote training specialists assist you to make better relationship with your dogs.
Get FREE advice and 7 day dog training support! Call now - 1300 843 364
Here for you and your dog,
Colin Seal

Best Deal Guaranteed

Free Training Guide

Shipped Same Day

'Trade Up' - Trade In...

6 Month Trade In Guarantee
Remote Dog Training Collars Review
I will only have kind words for the Sport Dog SD400. I believe it is the favourite of many pet owners as well. For one, it has the basics such as a rechargeable battery for the collar and is well-suited for both outdoor and indoor areas. The fine collar is water-resistant and includes back-up battery pack; easy to hear and visible wire alarm system; and of course the compact receiver collar.

Aggressive Dog cured - with a Dog Training Collar!
We ARE NOT "promoting" the use of Dog Training Collars to cure ALL aggressive dogs... But... After you watch this Dog Training Video and SEE FOR YOURSELF that the very happy owners can now take their dog for a walk IN PEACE.... And - - they ended up giving another dog a Home - (Thanks to some helpful advice - and giving it a go with a bit of common sense!) This video has created a BIT OF A STIR - (Thanks for all the Questions folks and if you want we can answer more... Just call)

The Sport Dog electronic dog training kit has both a fully waterproof transmitter and receiver. Furthermore, the units are not only splash proof, but are fully submersible. This is really useful if you run your dog on the beach, or your dog has access to a dam or river that he may take the urge to plunge into. You can throw sticks into the water for him to swim after, no problem, and should you accidentally drop the transmitter in the water, just retrieve the unit and continue with your play or training activities. For this reason it is the best dog training collar for dogs that love water.

Aussie Buyer Protection
Trouble Free Guarantees
Lowest Price / Best Deal
7 Day Support Line
Proud Aussie Family Business (Since 2003)
Free Dog Training Guide
Supporting Animal Rescue
Have a Question? Prefer to Order by Phone?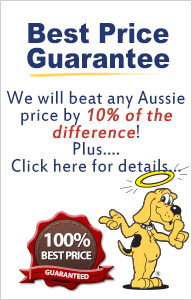 Best Deal Guaranteed

Free Training Guide

Shipped Same Day

14 Days 'Trade Up'

14 Day 'Trade up' Guarantee