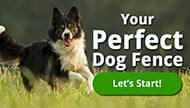 DogWatch is a well-known and trusted brand of Dog Containment Fences and Training Products internationally since 1990.
For 25 years, DogWatch has been providing the market with high quality, safe and reliable dog fences and training products with some of the most advanced technology available in the market.

By using our High Quality and Extra Strong Dog Fence Wire, a DogWatch Hidden Dog Fence is one of the most reliable Dog Containment Solutions considering price, the difficulty of installation and uninstallation, maintenance and overall performance.
A hidden dog fence from DogWatch is definitely a better, more practical choice and a good investment compared to traditional fences that can't totally prevent your dog from destroying your garden beds, jumping and digging under it to escape.