Home
> DogWatch Hidden Dog Fences
DogWatch Electric Hidden Dog Fences
DogWatch is a well-known and trusted brand of Dog Containment Fences and Training Products internationally since 1990. For 25 years, DogWatch has been providing the market with high quality, safe and reliable dog fences and training products with some of the most advanced technology available in the market.

By using our High Quality and Extra Strong Dog Fence Wire, a DogWatch Hidden Dog Fence is one of the most reliable Dog Containment Solutions considering price, difficulty of installation and uninstallation, maintenance and overall performance. A hidden dog fence from DogWatch is definitely a better, more practical choice and a good investment compared to traditional fences which can't totally prevent your dog from destroying your garden beds, jumping and digging under it to escape.


DogWatch provides both Indoor and Outdoor Dog Containment Solutions that are packed with features and advanced patented technology. Here are some of the main reasons why a DogWatch Hidden Dog Fence can outperform some of the top electric dog fences in the market. All of these features contribute to the safety and freedom of your dog inside your property.
• SafeLink® – Patented digital FM technology offers the best protection against stray signals. It is less prone to interference compared to AM which makes it very secure.
• Programmable Stimulation Levels – Up to 8 levels on premium collars and up to 5 levels on standard collars.
• Completely Waterproof and Submersible – Protects your investment against water damage.
• FastReact® – Fastest reaction time in the industry prevents sprinting through the invisible barrier.
• Tri Antenna System – Provides good reception despite of its position on the dog's neck.
• Safety Shutdown – Protects your dog from over stimulation.
• Anti-Linger – Prevents your dog from draining the battery.
• Lots more features...
For more detailed information, please check each Dog Fence Kit and the Receiver Collar above.

Here for you and your dog,
Colin Seal

Best Deal Guaranteed

Free Training Guide

Shipped Same Day

'Trade Up' - Trade In...

6 Month Trade In Guarantee
Electronic Dog Fence Blog Posts
Dogs digging up garden beds is no surprise. However, your dog destroying your garden can really be a disaster - imagine thousands of dollars spent on fancy plants, teared up by your pooch! So, we compiled 5 very useful tips to stop your dogs from digging up and getting into your garden beds, one of these is getting an awesome dog-proof fencing and having an effective dog-proof garden design. See the video below.

If you are ever wondering how to join, fix or repair broke Electric Dog Fence Wire, then check out this step by step guide. Firstly for a electric dog fence kit, get a wire that is TUFF, and can cope a bit of abuse from the natural elements like the heat of the australian sun.

Canines are escape artists by nature. Escaping is a serious problem for both you and your dog, as it can have tragic consequences.
If you have an off-leash dog in your yard, he is in danger of being hit by a car, getting injured in a dog fight or being hurt in several other ways that we wouldn't want to imagine. Escaping your property may lead to this and I'll explain why they do it.

Aussie Buyer Protection
Trouble Free Guarantees
Lowest Price / Best Deal
7 Day Support Line
Proud Aussie Family Business (Since 2003)
Free Dog Training Guide
Supporting Animal Rescue
Have a Question? Prefer to Order by Phone?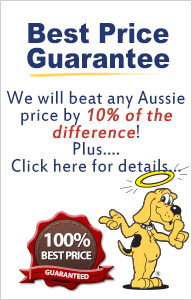 Best Deal Guaranteed

Free Training Guide

Shipped Same Day

14 Days 'Trade Up'

14 Day 'Trade up' Guarantee