Home
> Dangerous Dog Collars and Signs plus Muzzles for Dogs in WA
Click below to Download your Printable Dangerous Dogs Legislation in Western Australia
The Dog Amendment Bill 2013 demands that all declared dangerous dogs, restricted breeds and commercial security dogs must comply with the regulations below or face a court-imposed fine for each offense.


Table of Contents
WA regulations on Dangerous Dogs
Declared Dangerous Dogs in Western Australia
Requirements of a Dangerous Dog owner in WA
The Dangerous Dog Act in Western Australia has listed several breeds of dogs that are known to be naturally aggressive. These dogs are restricted and owners are expected to comply with each requirement mentioned below. These are the dog breeds that are restricted in WA:
• dogo Argentino (Argentinian fighting dog);
• fila Brasileiro (Brazilian fighting dog);
• Japanese tosa;
• American pit bull terrier;
• pit bull terrier breeds,
• Perro de Presa Canario,
This includes a mix of two breeds, one being a restricted breed or any other breed of dog the importation of which is prohibited absolutely by the Customs (Prohibited Imports) Regulations 1956 (Commonwealth).
Any size or breed of dog may be declared dangerous if they commit the following offenses:
• Cause injury or damage due to an attack on, or chasing, a person, animal or vehicle.
• The dog has repeatedly shown a tendency to attack or chase a person, animal or vehicle.
• The dog attacks, or chases, a person, animal or vehicle even though no injury has been caused by that behaviour.
1. Dangerous Dog Collar for WA dog owners

A dangerous dog must wear a Dangerous Dog Collar with red and yellow stripes of 25mm wide at an angle of 45 degrees to the rim of the collar. One of the colours must be fluorescent for visibility in darkness. It must be made of durable materials, be capable of being securely fastened, be capable of being attached to a leash and have a minimum width of:

WA Dangerous Dog Collar Size Requirement

- Small Collar – Are for Dogs Weighing Less Than 10 kgs : minimum 15mm Collar Width

- Medium Collar – Are for Dogs Weighing 10kgs up to 20kgs : minimum 25mm Collar Width

- Large Collar – Are for Dogs Weighing 20kgs Up to 40kgs : minimum 40mm Collar Width

- X-Large Collar – Are for Dogs Weighing Greater Than 40kgs : minimum 50mm Collar Width

2. Dangerous Dog Warning Sign for WA

A specially designed Dangerous Dog Warning Sign for Western Australia must be installed at all entrances of the premises where the Dangerous Dog or Declared Dangerous Dog resides.



3. Leash & Muzzle for WA dogs

A dangerous dog must always wear a muzzle to avoid any biting accidents and held by means of a chain, cord, leash or harness of not more than 2 metres in length by an adult capable of controlling the dog or temporarily tethered in the same way when in public places.



4. Confinement of Dangerous Dogs in WA

A dangerous dog or declared dangerous dog must be confined at an enclosure that prevents the following possibilities to prevent incidents:



• The dog's escape.
• The dog's release without the owner knowing about it.
• A child from entering or inserting part of its body that may possibly cause injury.




5. Persons In Charge of Dangerous Dogs in Western Australia

Persons in charge of Dangerous Dogs in public places must be responsible and not be under 18.



6. Maximum Number of Dogs per owner in WA

A maximum of two restricted dogs per person without a permit from the Council.



7. Age Requirement of a Dangerous Dog owner in WA

Owners are fully responsible for their dog and must not be under 18 years of age. It is expected that the owner understands what is required for them in order to own a Dangerous Dog.



8. Notification to WA government of Restricted Breed

If a dog owner happens to own a Restricted Dog Breed, it is required for them to notify the local government to receive more info on the subject as well as instructions on what to do next.



9. Notification of Escape, Death or Change of Ownership of Dangerous Dogs in WA

If a Dangerous Dog dies, escapes or if there is a change in ownership, the local government must be informed of the situation so proper actions may be taken to ensure the safety of the public.



10. Sterilisation & Breeding of Restricted Breeds in WA

Restricted breed dogs are known to be aggressive and are not allowed to be bred. All restricted breed dogs must be sterilised. It is also an offense to sell, buy or advertise to sell restricted breed dogs.
Download your Fact Sheet below. Print it and share it with dog owners. You can upload it to your website or even send it to your mailing list.
The information contained on this page is meant as a general guide and general advice only and not for the purpose of providing legal advice. We recommend people follow the instructions of their local government department. These materials are intended, but not promised or guaranteed to be current, complete, or up-to-date and should in no way be taken as an indication of future results. The Dog Line offers this information freely and takes no responsibility for its accuracy. For more details, please contact your local council.

Best Deal Guaranteed

Free Training Guide

Shipped Same Day

'Trade Up' - Trade In...

6 Month Trade In Guarantee
Dangerous Dog Blog
EMMETT is a massage therapy technique for humans and animals. It is best for dogs who need relief from certain kinds of restrictions such as subtle pain and discomfort.

Dangerous Dog Acts and their requirements for Dog Owners in Australia that have been implemented throughout most Australian states aim to protect the public from dog attacks. We talk about the requirements that they demand from dog owners with these dogs and the sanctions if they are not met.

Dangerous Dog Act: What is a Dangerous Dog?
Dangerous Dog Acts which covers Dangerous Dogs, Menacing Dogs and Restricted Breed Dogs have been enacted on most Australian States to protect the public from being attacked by such a dog.

Aussie Buyer Protection
Trouble Free Guarantees
Lowest Price / Best Deal
7 Day Support Line
Proud Aussie Family Business (Since 2003)
Free Dog Training Guide
Supporting Animal Rescue
Have a Question? Prefer to Order by Phone?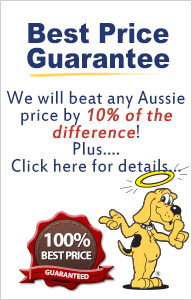 Best Deal Guaranteed

Free Training Guide

Shipped Same Day

14 Days 'Trade Up'

14 Day 'Trade up' Guarantee