Home
> Dangerous Dog Collars and Signs plus Muzzles for Dogs in VIC
Click below to Download your Printable Dangerous Dogs Legislation in Victoria
The Domestic Animals Regulations 2015 in Victoria imposes a series of obligations and requirements for owners of Dangerous, Menacing and Restricted Breed Dogs. The purpose of this Act is to prevent and make sure that the public are not attacked by such a dog. Penalties will be issued for not complying with the requirements of this Act.
Table of Contents
Dangerous Dog Act in Victoria
Dangerous Dogs - What are they?
Menacing Dogs - What's the difference?
Restricted Breeds - What breeds are restricted?
Dog Owner Requirements - How do I comply?
We have compiled some of the important facts and obligations a dog owner must do if they own a Dangerous Dog, Menacing Dog or Restricted Breed Dog. This is only a guide to help owners comply with the requirements and avoid offenses that may lead to large fines. For more details, please contact your local council.
There are three main types of dogs that are mentioned in this act. If a dog owner owns a dog that has been declared dangerous or menacing or a restricted breed, they must comply with certain requirements mentioned below or face large fines or even imprisonment.
A dangerous dog is a dog that has been declared dangerous by a council in Victoria due to biting or attacking a person or animal resulting in death or serious injury. Menacing dogs may also be declared dangerous if their owner has received at least 2 infringement notices for failing to comply with requirements.
Menacing dogs in VIC are dogs that have been declared menacing due to rushing or chasing a person or causing non serious bite injury to a person or animal. Rushing is defined by the act of approaching a person within 3 metres in a menacing manner including the display of snarling and growling. There are fewer requirements for this type of dog compared to Dangerous Dogs and Restricted Breeds.
Restricted Breed Dogs are dogs that fit the Victorian "Approved Standard" for the following breeds:
• American Pit Bull Terrier (Pit Bull Terrier)
• Perro de Presa Canario (Presa Canario)
• Dogo Argentino
• Japanese Tosa
• Fila Brasileiro

Back to Top
The Act lists down several requirements that a dog owner with a dog that fits the above descriptions or face large fines for each offense. This information below is to help dog owners and guide them through each requirement and avoid penalties.
Prescribed Dangerous Dog Collar for Dangerous & Restricted Dogs in VIC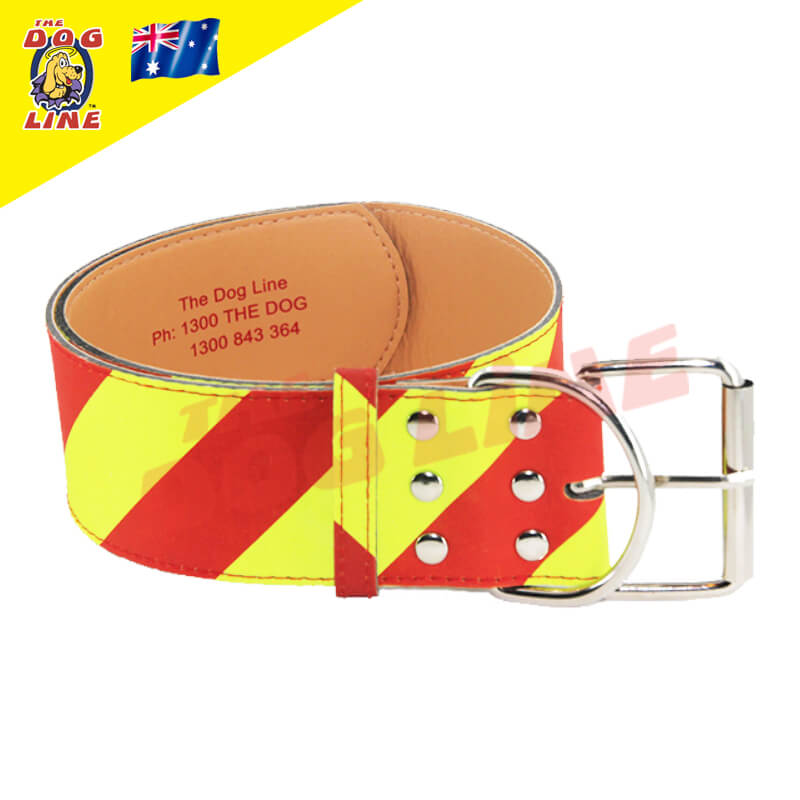 A specially designed Dangerous Dog Collar must be worn at all times by Dangerous Dogs and restricted Dog Breeds to quickly and easily identify them as dangerous. The collar consists of red and yellow diagonal stripes angled at 45 degrees where one colour is fluorescent to be visible from a distance and reflective at night. It is made of durable materials and is capable of being securely fastened and attached to a leash. There are 3 sizes as required by the act:
VIC Dangerous Dog Collar Size Requirement
- Medium Collar – Are for Dogs Weighing Less Than 40kgs : minimum 25mm Collar Width

- X-Large Collar – Are for Dogs Weighing Greater Than 40kgs : minimum 50mm Collar Width
Dangerous Dog and Restricted Dog Warning Sign for Victoria
Similar to other States, it is required in Victoria that dog owners install Dangerous Dog or Restricted Dog Warning Signs at all entrances to the premises to alert and inform persons entering that there is either a Dangerous Dog or a Restricted Dog is being kept on the premises. There are two warning signs as required by the Act in Victoria depending on which type of dog they possess.
Dangerous Dog Warning Sign for VIC
• Must be square with 40cm sides
• Made of durable metal
• Complies with the Domestic Animals Regulations 2015
• At least one colour must be reflective
Restricted Dog Warning Sign for VIC
• Must be rectangular at 10cm in height and 30cm in width
• Made of durable material
• Must have a 3 point Black Border around the sign
• Have a light turquoise background
• At least one colour must be reflective
• Have the words "Restricted Breed Dog on Premises" in Black, Bold, 72 font size in Times New Roman

Back to Top
Dog Muzzle & Leash for Dangerous, Menacing and Restricted Dogs in VIC
When in public and away from the enclosure or property, Dangerous Dogs, Menacing Dogs and Restricted Dogs in Victoria must be muzzled and on leash at all times for the safety of the members of the public. They must be handled and controlled by a person not less than the age of 18 years for adequate restraint.
Housing of Dangerous, Menacing and Restricted Dogs in NSW
A declared dangerous dog, menacing dog or restricted dog must be confined in an enclosure that prevents it from causing injury to visitors and escaping and that no person can have access to it without the assistance of an occupier of the residence who is over 18 years of age. The owner must ensure that an outdoor enclosure must possess the following features:
• Be fully enclosed
• Have walls, a floor, a drain, a roof and gate that complies the details below
• Weatherproof sleeping area
• Minimum floor area of 10 square metres per dangerous dog
• Minimum height of 1.8m
• Minimum width of 1.8m
• Walls must be fixed to the floor no more than 50mm from the floor.
• Walls, roof and gate must be made of brick, iron, timber or other solid materials, 3.15mm chain mesh with 50mm spacing or 4mm weldmesh with 50mm spacing
• Floor must be constructed of sealed concrete and graded to a drain for removal of waste
• The gate must contain a lock and is kept securely locked when the dog is in the pen
• Must not be located in an area where people have to pass through the enclosure
Other VIC requirements for Dangerous, Menacing and Restricted Dogs
The requirements below are still part of the above and must be complied with by the owner of a dangerous, menacing or restricted dog in Victoria.
• The dog must be microchipped
• Dangerous and Restricted Dogs must be desexed
• Restricted Dogs must not be sold, given away or transferred to the ownership of another person
• The local council must be notified within 24 hours of the following:


---- The dog goes missing
---- The ownership of the dog changes
---- The owner's address changes
---- The place where the dog is kept changes
---- A change in municipality (Must inform both councils)
---- The dog rushes or chases a person (Applies to Menacing Dogs only)

• An owner must not own more than two restricted breed dogs unless they are permitted by the local council

Back to Top
Click below to Download your Fact Sheet and print it to share with other dog owners. You can also upload this to your website or even send it to your mailing list.
The information contained on this page is meant as a general guide and general advice only and not for the purpose of providing legal advice. We recommend people follow the instructions of their local government department. These materials are intended, but not promised or guaranteed to be current, complete, or up-to-date and should in no way be taken as an indication of future results. The Dog Line offers this information freely and takes no responsibility for its accuracy. For more details, please contact your local council.

Best Deal Guaranteed

Free Training Guide

Shipped Same Day

'Trade Up' - Trade In...

6 Month Trade In Guarantee
Dangerous Dog Blog
EMMETT is a massage therapy technique for humans and animals. It is best for dogs who need relief from certain kinds of restrictions such as subtle pain and discomfort.

Dangerous Dog Acts and their requirements for Dog Owners in Australia that have been implemented throughout most Australian states aim to protect the public from dog attacks. We talk about the requirements that they demand from dog owners with these dogs and the sanctions if they are not met.

Dangerous Dog Act: What is a Dangerous Dog?
Dangerous Dog Acts which covers Dangerous Dogs, Menacing Dogs and Restricted Breed Dogs have been enacted on most Australian States to protect the public from being attacked by such a dog.

Aussie Buyer Protection
Trouble Free Guarantees
Lowest Price / Best Deal
7 Day Support Line
Proud Aussie Family Business (Since 2003)
Free Dog Training Guide
Supporting Animal Rescue
Have a Question? Prefer to Order by Phone?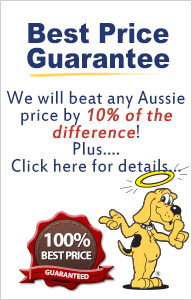 Best Deal Guaranteed

Free Training Guide

Shipped Same Day

14 Days 'Trade Up'

14 Day 'Trade up' Guarantee