Home
> PetSafe Electronic Dog Fences
PetSafe Electronic Dog Fences – Reliable Hidden Dog Fence Kits
PetSafe is a well-known manufacturer of Electronic Dog Fences, Bark Control Solutions as well as other pet products. They are one of the most recognised pet brands in the world.

Our Electronic Dog Fence kits have been picked out to give you the flexibility you need to contain any type of dog of any size as well as your preference whether you want dog fence wires around your property or not. This enables you to choose which dog fence kit is perfect for your dog's temperament and your preference with confidence. We assure you that each of these electronic dog fences have been tested and proven to be safe for all dogs and that the highest level of correction being given to your dog is not painful but only uncomfortable. The static corrections are simply muscle stimulation and feels like that tingly feeling when your leg falls asleep for just a split second.


Generally, all of these electronic dog fences work the same. The only difference is that some kits have receiver collars with higher levels, a larger area coverage and wired and wireless configuration.

These dog fence kits work by covering your set boundary with a radio signal field that acts as the hidden fence. This may be achieved by wires being laid around your property or simply setting the signal range on the transmitter of a wireless dog fence kit. Once your boundary is active, the receiver collar is strapped on your dog. Whenever the receiver collar gets in contact with the signal field, it tells the receiver collar to give the dog a warning followed by a static correction if the dog decides to try and escape.

Depending on which kit you choose correction levels vary in the correction level and the type of delivery such as manually set corrections or progressively increasing. What it all comes down to is proper training and picking the perfect kit for your dog and your property.


Here for you and your dog,
Colin Seal

Best Deal Guaranteed

Free Training Guide

Shipped Same Day

'Trade Up' - Trade In...

6 Month Trade In Guarantee
Electronic Dog Fence Blog Posts
If you are ever wondering how to join, fix or repair broke Electric Dog Fence Wire, then check out this step by step guide. Firstly for a electric dog fence kit, get a wire that is TUFF, and can cope a bit of abuse from the natural elements like the heat of the australian sun.

Canines are escape artists by nature. Escaping is a serious problem for both you and your dog, as it can have tragic consequences.
If you have an off-leash dog in your yard, he is in danger of being hit by a car, getting injured in a dog fight or being hurt in several other ways that we wouldn't want to imagine. Escaping your property may lead to this and I'll explain why they do it.

Some pros and cons of both Traditional Visible Fences and Electronic Dog Fences.
Why would you choose an Electronic Dog Fence over a traditional fence that seems to be working just fine since forever? Well for starters, technology has improved Electronic Dog Fences over the years and has solved the problems that you still have with traditional fences. Costs are lower and things are setting up takes less time and effort.

Aussie Buyer Protection
Trouble Free Guarantees
Lowest Price / Best Deal
7 Day Support Line
Proud Aussie Family Business (Since 2003)
Free Dog Training Guide
Supporting Animal Rescue
Have a Question? Prefer to Order by Phone?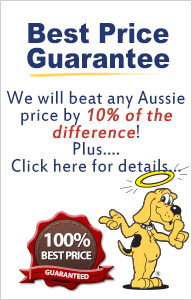 Best Deal Guaranteed

Free Training Guide

Shipped Same Day

14 Days 'Trade Up'

14 Day 'Trade up' Guarantee