Your Guide in Choosing the Right Electric Dog Fence that Works with Colourbond Steels
You may have seen lots of different types of electric dog fences in the market today. So now, how can you know which one to choose that would suit your dog containment needs and also your property? Here, we will discuss the dog fence signal and how colourbond steel can affect your containment system.
Click on any of these icons to see the videos and more information
Colorbond Steel would not interfere with FM Radio Signal.
So, you're here because you need the right dog containment kit for your property. You already tried using colourbond steel fence around your property and still... your dog digs under or jumps over your fencing.
Chat to an Expert, Plus... get our FREE Dog Fence Information Pack
Simply Tell Us a bit about your dog and what's been happening.
You might be looking for something that you could place beside your physical fence to safely and effectively contain your dog in your property - an electric dog fence.
This guide will help you determine the right fence system that is suitable for properties with colorbond fencing.
We installed an invisible dog fence to a property with colorbond steel fences, roofs, and sheds. They wanted the radio transmitter to be kept inside the colorbond shed, and run the wire along the colorbond fence. Upon installing the dog fence, we found out that they've had a previous fence system that failed because radio frequency doesn't react well with metal.
An electronic dog fence should have a coded digital FM radio frequency that works well even with these colorbond steel. This means that there are no false zaps, no fuzzy TVs, and no interference with other electronics.
The coded digital FM radio frequency from the Radio Transmitter means that your dog's Receiver Collar will be the only one to get the radio signal from the Transmitter. The Receiver Collar would not be accidentally activated by stray radio signals, it will not interfere with any appliances such as the TV and Microwave oven, for example.
Working with metal fences, sheds, and roofs, Electric Dog Fences that uses AM Radio signals would not work properly. Metals can disrupt AM radio signals and would cause it to jump around and zap your dog even if he is in the right area. Once this happens, the training would be inconsistent and your dog can get confused or worse get the Porch Sitting Syndrome, and you don't want that to happen.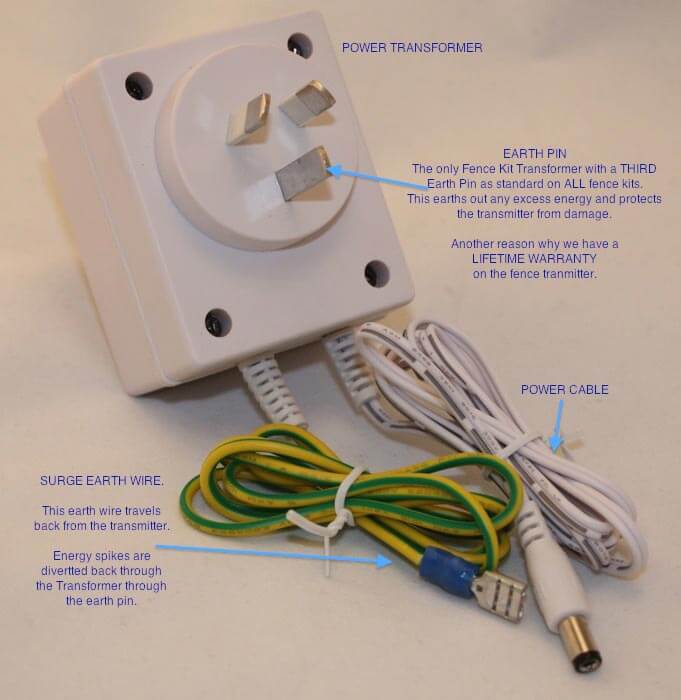 Having a Regulated Power Supply will maintain a constant signal and will not fluctuate when there's a voltage spike, causing the collar to correct the dog in the wrong area.
Also, another good feature that an invisible dog fence should have would be a signal range setting that would help create a custom depth of signal from the dog fence wire.
Why Should I Choose an Electronic Dog Fence System over Traditional Fence?
First of all, we don't want you spending a lot of money when you can just go for a much cheaper and more effective fence system to keep your dog in your property. Traditional Fences will never be as effective as Electronic Dog Fences.
When your dog has gotten used to these traditional fences, your dog will find a way to either jump over the fence... or dig under the fence.
Electronic Dog Fences don't have this problem because basically there is no going over or under! The dog is deterred by the system way before they get close to the boundary. With electronic dog fence, your dog can run around your property without the worry of escaping!
The Invisible Dog Fence is the most ideal solution of keeping your dog in your property.
Electric Dog Fences that Work for Property with Colorbond Steel
We offer different variations of invisible dog fence systems to suit your dog's temperament and your property needs. Whether you are looking for a dog containment system in a large property, or for a small suburban property... or if you just simply want to keep your dog out of a garden bed or from a specific room in your house, we offer an electric dog fence kit that would be able to cater your every need.
Dog containment system comes in different kits that are upgradable and customisable for your needs, and it is ready and easy to install. We pack it with an owner's manual, installation manual, and a FREE Electric Dog Fence step by step training guide.
So let's have a look at the systems…
This kit is ideal for fencing large areas of properties (over 1 acre). It also can be used in setting up a dog fence up to a hundred acres by simply adding more wire.

Grounds Keeper Dog Containment DIY Kit

This kit is perfect for smaller properties up to 1 acre. It is mostly used to address the dog's jumping over the fence or dog's digging in the garden.
Tips in Training Your Dog with a Dog Containment System
Training a dog is easy. For best results, you must have a consistent and persistent training routine. The idea here is you do the 80% training... 20% left, the dogs work it out themselves.
Most of the training, you'll be teaching where the dog is allowed to go.
Take the dog into the radio signal at a level just above their comfort zone.

Train one command at a time or the dog will be confused. For example, do training at the dog's favourite escape hole, and when you feel satisfied with the results, call it a day.

It is important to walk the dog around the property at the beginning and end of every training session, so the dog will know where is the safe zone.

Put the little flags on the ground to indicate the "no-go" zone.

Use a low, cautionary tone of voice when you're walking towards the no-go zone, and high, rewarding tones when walking away from the fence. Dogs can definitely understand the human's tone of voice.

Rushing the training will do you no good.

Setting too much high level of static stimulation will just scare your dog. This is what we call the Porch Sitting Syndrome - your dog won't go out of the property completely.

If you're training the dog for the first time, that's when you put the collar on a higher level.
Again, with consistent and persistent training, your dog will no longer be an escape artist... in no time.
Are you confused about the choices? Then Download our FREE Dog Fence Buying Guide.
We have put together a Comprehensive Guide... That includes 7 Points to consider before you make a decision on a Dog Containment System. Tell us a bit about your dog and your property and we will put together a quote and send you our FREE report will ensure that you understand how these systems work and the questions you need to consider to ensure you get the results you are looking for the first time.
Complete this form to chat to a real person about your specific needs

We have wide options of electric dog fences that surely fit to your dog types and different areas that you want to be safe such as garden beds, small property, large property, and even indoor property. Each type has its own distinct features that offer a great deal for both of you and your dog.
If you are still having a hard time about electric dog fences give us a call on our 7 Day Hotline 1-300-(THE-DOG) 1-300-843-364 do not hesitate to CONTACT US