Home
> The Receiver Collar Battery
The Receiver Collar Battery


How Important is the Battery in a Receiver Collar?
The Receiver Collar includes a Replaceable Long Life Battery that can last up to 2 years while mini sized collars can go on up to 6 months.
This is important to know because once the Battery wears out, the Receiver Collar will fail to pick up the Radio Signal from the wire. Replacing batteries could cost you around $20 every six weeks.
A flat Battery could end up as an expensive trip to the Pound or worse.
You need a Reliable Receiver Collar
When the dog comes close to the Warning Zone boundary, it sets off the beeper on the Receiver Collar.
Some dogs drain the battery by sitting inside the Warning Zone with the beeper going on until the Battery is flat.
Our Receiver Collars have an Anti-Linger feature which will sound off a beeper in the warning zone for 20 seconds.
The Receiver Collar then gives the dog a short stimulation to get him out of the warning zone.
They also include a Long Life Battery that save you money from buying extra batteries too often.
These features stops the dog from running down the battery and escaping.

Aussie Buyer Protection
Trouble Free Guarantees
Lowest Price / Best Deal
7 Day Support Line
Proud Aussie Family Business (Since 2003)
Free Dog Training Guide
Supporting Animal Rescue
Have a Question? Prefer to Order by Phone?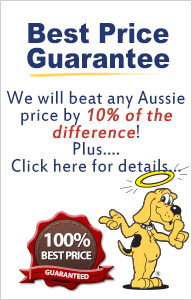 Best Deal Guaranteed

Free Training Guide

Shipped Same Day

14 Days 'Trade Up'

14 Day 'Trade up' Guarantee