Home
> PetSafe Remote Dog Trainers
PetSafe Remote Dog Training Collars
PetSafe is a popular and well-known brand that manufactures High Quality domestic pet training equipment. PetSafe Dog Trainers is best for training domestic dogs.
What's the BEST Petsafe Training Collar Features:
Opting to use a Remote Training Collar for your dog, you should make sure what features you need and would be the most effective and convinient way to train your dog.
We have chosen 3 Remote Dog Trainers from PetSafe and offer them for a Rent-Try-Buy option for those skeptical about Remote Dog Training Collars.
Now, this is more like of a BENEFIT than a device feature. Every electronic device is expected to come with at least 1 year warranty, right? But what if I tell you that PetSafe offers 3 YEARS WARRANTY to their remote dog trainers? Yes, that's right. PetSafe is committed to delivering the right service - they are also very trustworthy and their products are reliable.
These dog training collars from PetSafe feature longer signal range from 70 metres up to 300 metres and more. This allows you to train your dog not just inside your house or around your yard... but also during walks in the park and easily recall them when you're out and about - like hiking or jogging.
PetSafe's Remote Training Collars come with different levels of static stimulations or Citronella spray corrections. These are safe and very effective behaviour modifying stimulations. If you have a strong-willed dog, I recommend you choose a remote dog trainer that delivers a static stimulation. If you have a more timid dog, the light stimulation of Citronella remote spray trainers will do. The different correction levels offer you flexible training with your dog and help you to achieve positive results in no time.
Sometimes a quick and instant distraction is needed for example when your dog is running towards the road, the high adrenaline of the dog would cover the current level you are using. The +2 boost button will instantly deliver additional 2 levels than the current stimulation setting - that would instantly get their attention.
It would be great if you can bring your dog to the beach or around the pool to train. This is really good if you have a water-loving pet. This fun remote dog training is made possible by PetSafe - most of their training collars and remote are water-resistant and even waterproof! This ensures durability and long-lasting benefit that you and your dog can take advantage from the best PetSafe remote dog trainers.
This is one of the most awesome features that a remote dog trainer could have! Training two dogs with one remote has been made possible by PetSafe. Pet owners who have more than one dog would agreed that this feature is absolutely cost and time effective.
PetSafe remote dog trainers are loved by their lightweight and compact design. Now, with the newest trainers, they have an even modern style that surely brings comfort and fab to your dog.

Best Deal Guaranteed

Free Training Guide

Shipped Same Day

'Trade Up' - Trade In...

6 Month Trade In Guarantee
Remote Dog Training Reviews
As the temperature rises, snakes are showing up more and more on the streets and even on our own backyard. Of course, we would not like our dogs to get bitten by these snakes - snake bite is a common killer of dogs. So as the saying goes "prevention is better than cure", let's discuss how can we prevent our dogs from getting bitten by snakes.

Training your dog can be hard. PLUS, the stress brought by your dog's unwanted behaviours makes it more difficult. We all love our dogs. We want the best for them - this is a cliche but you know it's true. If you want to improve your relationship with your dog, you gotta learn how to train him… but what's the quickest way possible?

I will only have kind words for the Sport Dog SD400. I believe it is the favourite of many pet owners as well. For one, it has the basics such as a rechargeable battery for the collar and is well-suited for both outdoor and indoor areas. The fine collar is water-resistant and includes back-up battery pack; easy to hear and visible wire alarm system; and of course the compact receiver collar.

Aussie Buyer Protection
Trouble Free Guarantees
Lowest Price / Best Deal
7 Day Support Line
Proud Aussie Family Business (Since 2003)
Free Dog Training Guide
Supporting Animal Rescue
Have a Question? Prefer to Order by Phone?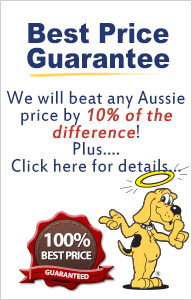 Best Deal Guaranteed

Free Training Guide

Shipped Same Day

14 Days 'Trade Up'

14 Day 'Trade up' Guarantee