Do Electronic Dog Training Collars Work?
How Does a Remote Dog Training Collar Work

Dog Training Collars commonly require 2 main components to work: the remote transmitter and the collar receiver. Today, you will learn the facts about remote dog training collars and how these components work.
Generally, remote dog training collars work as you set the handheld remote transmitter to send a radio signal to your dog's collar receiver - this activates the correction or stimulation such as tone, vibration and static pulse to correct unwanted behaviours or reward positive behaviours.
You can choose the kind of stimulation for your dog, especially the level of the static pulse as needed.
The stimulation is delivered from the two small prongs, attached to the collar, that touches your dog's skin - this is why proper fit is so important.
The Works of an Electric Dog Training Collar (Click each item to discover more facts):

Electric Dog Training Collars have been widely used in Australia to effectively train dogs - correcting unwanted behaviours that negatively impact the relationship between the owner and the dog (often leading to dog abandonment).
It has been observed that using a high-quality remote dog training collar PROPERLY can greatly improve the owner-dog relationship.
Now, these collars have gained the popular term "shock collars" although this is quite unfair and incorrect because these e-collars DO NOT deliver a high voltage electric shock to dogs (this is explained further in the graph below).
The collars simply produce a static stimulation with a tickling sensation similar to a TENS (Transcutaneous Electrical Nerve Stimulation) machine - this does not hurt nor harm the dog in any way but is definitely effective in deterring the dog from any unwanted behaviour.

Please take note: We strongly recommend that you use electric dog training collars that pass the Australian standards of using electronic devices.
This is the reason why we only offer electronic training devices that are checked and approved by the Australian Communications and Media Authority (ACMA).
 
Sending the radio signal from the remote transmitter to the dog training collar receiver varies.
The distance range can go from 70 metres up to 1000 metres and even more - this depends on the kind of wireless dog training collar that you choose.
If you are training a pet in a not-so-wide area, 70m to 300m signal range will do good.
However, if you are training a sporting, hiking or working dog, 300m and above signal range would greatly suffice.
Now, contrary to what you see on the remote image (which is a Big Leash remote trainer), not all remote transmitters have LCD display - this is really convenient when you are often training-on-the-go.
The LCD display ensures that you are delivering the right level and kind of stimulation to your dog.
The buttons to adjust the stimulation levels are of course necessary in the remote - you will always have an option to decrease and increase the correction level.
This depends on the kind of remote dog training collar that you will use since most of them have different multiple levels of static pulse corrections (please always refer to the operation manual).
Also, not all remote transmitters of electric dog training collars are rechargeable BUT we can confidently say that the non-rechargeable remote trainers that we promote in our website have long-lasting replaceable batteries - most can last up to 6 months of regular use.
Now, we also have waterproof remote transmitters that will suit your need especially if you are training with water-loving dogs. On the other hand, most remote transmitters that we offer are weather-proof or water-resistant.
Basically, the remote transmitter serves as your "invisible leash" so you can communicate with your dog from a distance.

Related Article: How To Use a Dog Training Collar
 
The receiver collar that your dog wears reacts to the radio signal from the remote transmitter - it then activates the correction (tone, vibration or mild static pulse).
The stimulation is delivered through the two small metallic prongs attached to the receiver collar - these prongs need to be properly placed and should mildly touch your dog's neck.
We strongly recommend that you learn how to properly fit the receiver collar to your dog.
 
Related Article: 5 Ways to Avoid Sores (Burns) On Your Dog's Neck | Electric Dog Collars
 
Also, just like our remote transmitters, our dog training receiver collars come in a variety of rechargeable and waterproof units.
Once again, we strongly advise that you choose a collar that is tested and approved for use in Australia by the ACMA (Australian Communications and Media Authority).
In our website, you will find remote trainers that are cleared for by the ACMA. Please be careful about the e-collars that you see in the market online.
 
These are the common stimulations of an Electronic Dog Training Collar - tone, vibration and static pulse.
However, please be informed that not all remote trainers contain all of them in one. Some just have one or two kinds of these stimulations.
Also, we offer a remote trainer that uses Citronella spray as a stimulation - Citronella has a lemongrass scent and the burst sound and smell of the spray can stimulate your dogs.
The tone stimulation is usually being used as a warning or signal for reward - this is particularly useful if you do not want to deliver the static correction to your dog just yet.
The vibration stimulation is also often used like tone stimulation… and people who do not want to deliver a static correction to their dogs resort to vibration - this is also commonly used by dog-owners who have sensitive yet responsive dogs.
The static stimulation is a mild pulse that is completely harmless. It does not hurt the dog but it can be really annoying - like being pricked by tiny needles. This is why the static correction is by far the most effective among all others.
If you are wondering if the static stimulation from an e-collar can hurt or burn a dog, please see the graph below.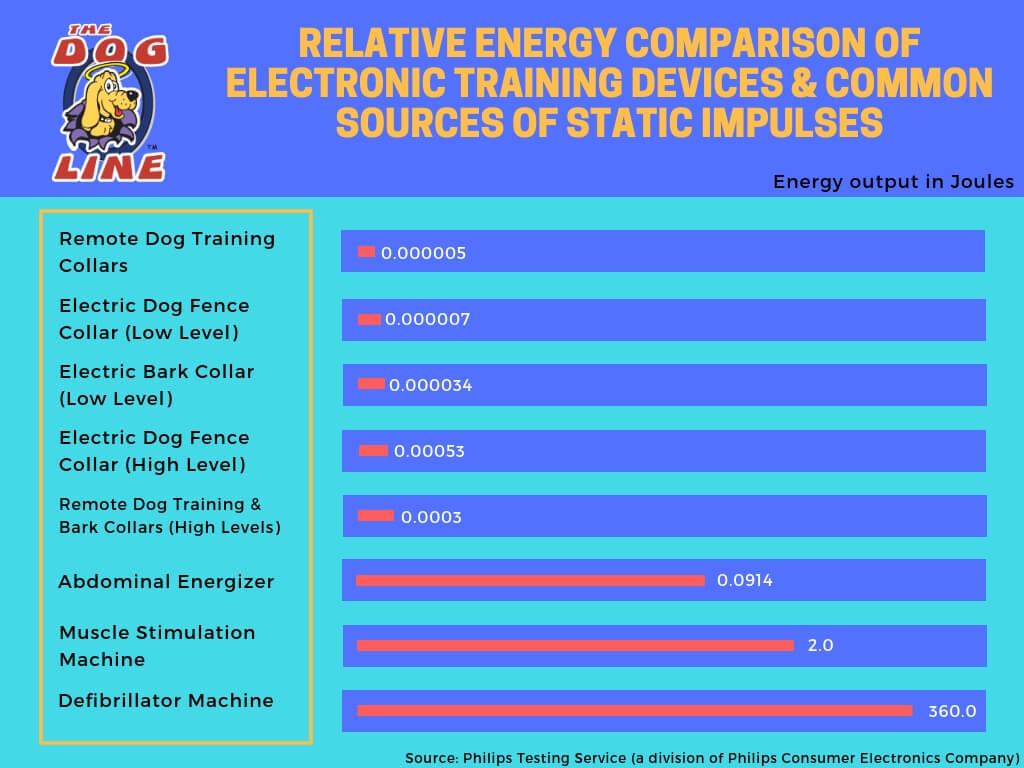 Apparently, a remote dog training collar highest level of static stimulation can only reach up to 0.0003 joules in energy output.
It's nothing compared to the common human training devices (e.g. Abdominal Energizer) that we use.
Basically, humans are prone to get burned or hurt by electric devices than dogs - this is because we have thin and oily skin… whilst dogs have fur, dry and thicker skin.
These electric dog training collars do not even produce heat… so, there's no way it can burn a dog's skin.
But what causes the sores in a dog's skin blamed to electric dog collars?
Pressure Necrosis - too much tightening (with constant friction) of the collar on a dog's neck without good hygiene causes the skin to sore.
 
Read Related Article: 5 Ways to Avoid Sores (Burns) On Your Dog's Neck | Electric Dog Collars
 
The stimulations of these remote dog training collars are meant to distract dogs from unwanted behaviours so we can easily reinforce the positive behaviours. These collars are designed with optimum features to safely and effectively train dogs.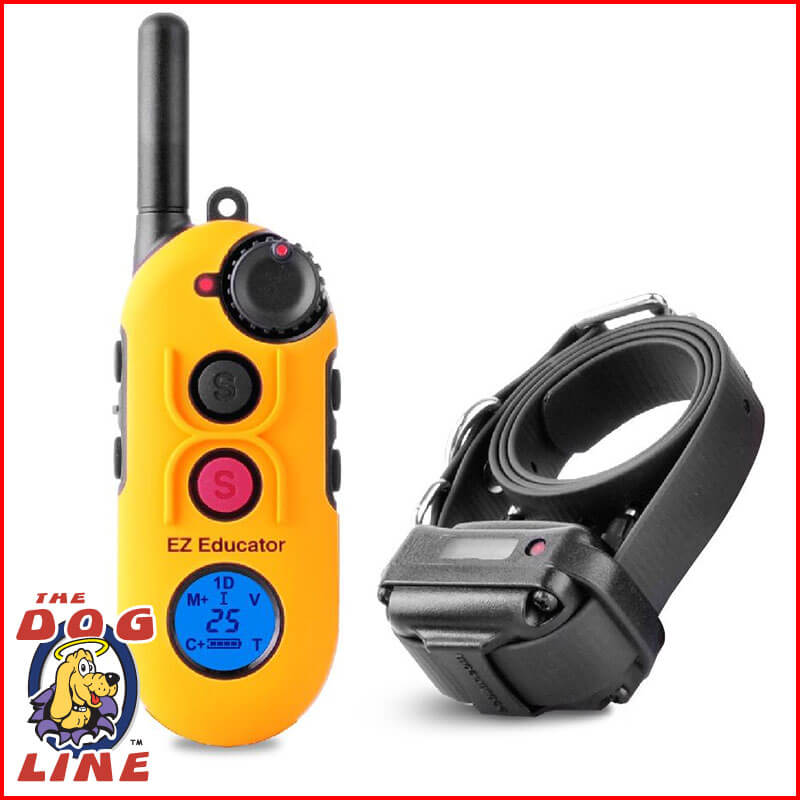 Most people prefer the use of an electric training collar because it helps in training the dog for safety especially in moments of recall - quite often when your dog gets away and when he or she is not trained for proper recall, there's a greater risk at stake.
Remote dog training collars have helped owners train their dogs to follow basic yet important commands such as the recall ("come" command).
The length of time that your dog should wear the collar depends on how persistent and consistent were you during the training.
Some people find that they do not have to always train their dog with the remote trainer as their dog masters each command as time goes by…
...but there are some who prefer having their dog wear the collar from time to time just like during walks at the park, just in case their dog gets overly-distracted and forgets the command.
It is also highly recommended to do refresher training with the remote dog training collar at least once a month.
 
If you have more questions or concerns about Electric Dog Training Collars, give us a call on our 7-Day Hotline at 1 300 (THE DOG), 1 300 843 364. Please do not hesitate to CONTACT US.