Electric Dog Fence - How To Stop Dogs Digging Holes in Garden?
An easy and effective solution to keep your dog out of the garden bed is to use a Pet Barrier Electric Dog Fence. The dog fence wire for garden beds creates a radio barrier around a garden bed to act as an invisible dog fence. Dogs can easily destroy gardens or ruin reticulation... and a traditional fence may not do the job and replacing gardens is very expensive.
Click on any of these icons to see the videos and more information
When thinking about fences to keep a dog off a garden bed, you need to remember it is a very small area. A garden bed is a small area that may cause problems with radio signal transmission and interference. And not all electric dog fences are able to cover a small area such as this. Radio signals can bounce around and jump across the property if the transmitter is too big for a small area.
The Groundskeeper has been designed to work on small and detailed areas... and is, indeed, a great fencing system to keep dogs out of your garden.
To keep your dog out of your garden, we offer you the Pet Barrier Electric Dog Fence for garden beds. Laying out your plan is simple and we even include sample layouts to give you a good feel of how it works. Here is how - the FM Dog Fence transmitter emits a radio signal through the wire creating an invisible barrier.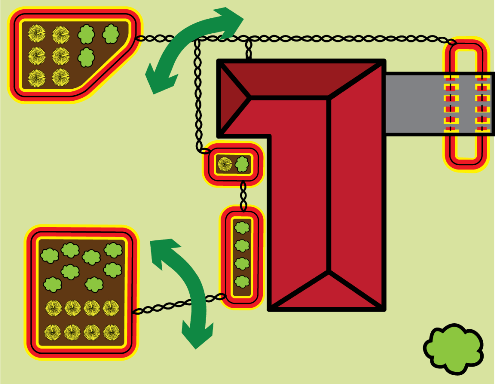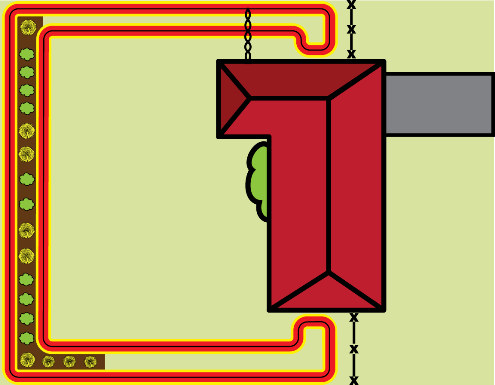 The receiver collar on your dog then picks up the signal, only when your dog walks near it - then it emits a warning tone, then a slight and harmless static pulse that will deter the dog from entering the garden bed. With a little bit of training, your dog will understand the warning and the stimulation in no time. That is why the Pet Barrier Electric Dog Fence is perfect for keeping dogs out from any type of garden bed.
DOWNLOAD OUR DOG FENCE MANIFEST
Our 7 Point Buyer's Guide, Plus...
5 Questions our Competitors DONT Want You to Ask
We give your dog the freedom it deserves and take away all the stress
There's a lot of options out there we know, and getting it wrong can end up costing more in the long run.
Feel free to call and chat to one of our Dog Fence Specialists to 1300 843 364.
You can also fill in the form below and tell us about your dog and property.
We will get back to you and send through our Dog Fence Buying Guide and Pricing
Discover More about the Importance of
* Lightning Damage Warranty
* Regulated Power Supply
* HDPe Coated Wire (Australian Made)
* Coded Digital FM Radio Frequencies.
* The Anti Linger Feature and Battery Life ($)
* The Chew Warranty
* Reaction times and 'Anti Run Through'
* Tri Aerial System
* Gentle Steps Training for Success
If you like a DIY dog fence, installation shouldn't be a problem at all. We include in the electric dog fence kit everything you would need in order for it to work straight out of the box - including the first 100m of the boundary wire. We also include an Owner Manual to help you with how all the components work and how to operate the system, an Installation Guide so you can install the whole kit by yourself, and a step by step Dog Training Guide, so you can easily teach your dog how to stay away from the garden bed.
You can also call our 7 Day Helpline if you have questions and we can give you a specific answer to your problem. Just call 1300 THE DOG (1300 843 364).
The Receiver Collar on your dog delivers the harmless static pulse. Whenever your dog comes near the signal field, a warning beep is activated first to signal the dog that he is nearing a restricted boundary and that he should back off… BUT if your dog keeps walking into the barrier, a static pulse is delivered and stops the dog from going further into your garden bed. You can set the level of stimulation to suit your dog's personality and training level. Training is required for optimum results from the Garden Electric Dog Fence.
Our Garden Bed Dog Fence Kit has unique features to ensure the long life and complete care of your dog. These are:
3 Years up to a Lifetime Warranty

All equipment is covered by a 3-year manufacturer's warranty. However, the premium receiver collars get an awesome lifetime warranty.

Unique Coded Digital FM Radio Frequency

Will not interfere with other household electronics and the dog will not be affected by other radio signals or 'false corrections

Surge Protected Power Supply - Safe during a lightning storm

Power surges to the transmitter can cause costly damage. Do not worry, our warranty covers breakdowns due to lightning and surges damages.

TUFF Dog Fence Wire for Gardens, HDPE Coated - 20 Year UV Rating

Strong dog fence wire for your dog-free garden. Our TUFF wire has a 1mm 7 strand copper core. See our wire video here.

The Receiver Collar with 1/8th of a second reaction time

Available in 2 different sizes, with an extra long-life battery (up to 2 years). Fully waterproof and submersible. These collars are covered with a 3-year warranty or you can upgrade the collar and get a lifetime warranty. The warranty includes Dog Chews. So, you can rest assured that your garden fence system will keep your dogs out of your garden for years.
Keep your dogs away from the garden by installing an Electric Dog Fence around the edge of your Garden Bed. This will effectively stop your dog from digging in your garden bed or ruining your plants. This is a long-term solution that is cheaper than traditional fences and takes less effort in the installation process.
You can start installing your Garden Dog Fence Kit by mounting the transmitter indoors - preferably near a power outlet. Then, run the wire around your garden beds to keep the dog off – in your case, around the edge of your garden. Run the wire back to the transmitter and attach both ends to it, creating a loop. See our dog fence designs here.
When you turn the transmitter on, the signal will run through the wire and back to the transmitter. The signal will then emit from the wire to all directions. You can adjust the signal width on the transmitter itself if you need a wider invisible barrier. The stronger the signal, the wider the fence to keep your dog out of the garden.
Get a Fence to Keep Dogs out of the Garden Today! Your Quote...
Click the button below and fill up the form. We will send you a FREE Dog Fence Quote and Info Pack to keep your dog off your garden using a dog fence for garden beds. We will give you the best personalized Pet Barrier kit for your specific needs. We always want to make sure that you are paying for something that is worth your hard-earned money. Hence, an Electric Garden Dog Fence that WORKS great.