Home
> What is a Receiver Collar?
What is a Receiver Collar?
The
receiver
is a small box attached to a
collar
. It has 2 probes that rest against the dog's skin. The collar will react when it enters the radio signal. In the warning zone, it will give off an audible tone.
DogWatch
offers 'Anti Linger'; the receiver will give a static stimulation if it remains in the warning zone for 20 seconds. When the receiver enters the correction zone it will give the dog a static stimulation. DogWatch offers a receiver with programmable levels to suit the needs of your dog's training requirements. See '
How does it feel
'?

Aussie Buyer Protection
Trouble Free Guarantees
Lowest Price / Best Deal
7 Day Support Line
Proud Aussie Family Business (Since 2003)
Free Dog Training Guide
Supporting Animal Rescue
Have a Question? Prefer to Order by Phone?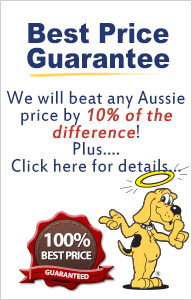 Best Deal Guaranteed

Free Training Guide

Shipped Same Day

14 Days 'Trade Up'

14 Day 'Trade up' Guarantee