Bark Control Training Collar



The Barking Dog Training Collar is one of our best-selling bark control collars. It is made to be small and compact and lightweight for your dog's comfort.
Barking Dog Training Collar BC6 Review Unboxing
It's easy to use and best for any size of the dog and can reduce or eliminate nuisance barking with 6 automatic progressive levels. The collar activates with the vibrations of your dog's bark and even has a protective rubber outer coating to minimize accidental activation.

The collar, with proper training, patience, and consistency, can eliminate nuisance barking. To help with that, the collar includes a training beep with each static stimulation and an automatic reset feature that sets the level back to the lowest level after 30 seconds.

The battery is fully user-replaceable and can last up to 6 months of continuous use.


What's GREAT about the Bark Control Training Collar?
KEY FEATURES
3 Year Manufacturer's Warranty
Completely Waterproof
Suitable for All Sizes of Dogs
6 Automatic Progressive Levels
Vibration Activated – Your Dog's Bark Only
Protective Rubber Coating – Minimizes Unwanted Activation
Automatic Reset – Helps with Training
Training Beep – For Easier Training
Small Form Factor and Lightweight
Replaceable RFA-67 Battery – Lasts up to 6 Months
Adjustable Collar Strap
WHAT COMES IN THE BARK COLLAR KIT?
Bark Control Training Collar
Contact Posts to suit your dog
Adjustable Collar Strap
Owner's Manual
Training Guide
3 YEARS MANUFACTURER'S WARRANTY
The receiver collar is covered by the manufacturer's warranty for 3 years - fully guaranteed!

COMPLETE WATERPROOF AND FULLY SUBMERSIBLE
No risk of being damaged from any weather or accidental submerged in water or liquid because it is a fully waterproof Barking Dog Training Collar.

6 STIMULATION LEVELS - AUTOMATIC PROGRESS
The Barking Dog Training Collar is geared up with 6 levels of progressive static stimulations that are perfect for training your dog. From the lowest level will gradually increase the levels of stimulation as your dog did not stop to bark.

AUTOMATIC RESET AS SAFETY FEATURE
After 30 seconds of no-bark detected from your dog, this Barking Dog Training Collar will automatically reset back to the lowest level of stimulation.

VIBRATION ACTIVATED - YOUR DOG'S VOCAL CORD
With the use of the vibration sensor built in this Barking Dog Training Collar, it will only be activated by the vibration from your dog's vocal cord. It guarantees no false correction for your dog.

AVOID UNWANTED ACTIVATION - RUBBERIZED COATING FOR PROTECTION
The protective rubber coating used in Bark Dog Training Collar will give guarantees for consistent and effective training with no unnecessary activations.

SOUND INDICATOR - BEEPING TONE
A beeping sounds for each stimulation level that is audible both human and dog ears. It will help you give better and easier training with your pet.

USES REPLACEABLE LITHIUM BATTERY
User-friendly installation of the replaceable battery that lasts up to 2-4 months in normal usage in the Barking Dog Training Collar. You will have consistent training with your dog. Also, the bark collar is kept waterproof because the battery includes a new "O" rubber ring that making it tight and leak-free.

LIGHTWEIGHT AND COMFORTABLE BARK COLLAR
From the smallest to largest dogs, this Bark Dog Training Collar surely fits on your pet. It has an adjustable strap and lightweight that they can barely feel it around their neck.
Price Match
We'll Beat any Aussie Competitor's Price!
Here at The Dog Line, we guarantee that our prices either match the prices of competitor's or beat them. We also offer a lot of other Reasons to Buy besides a price match guarantee.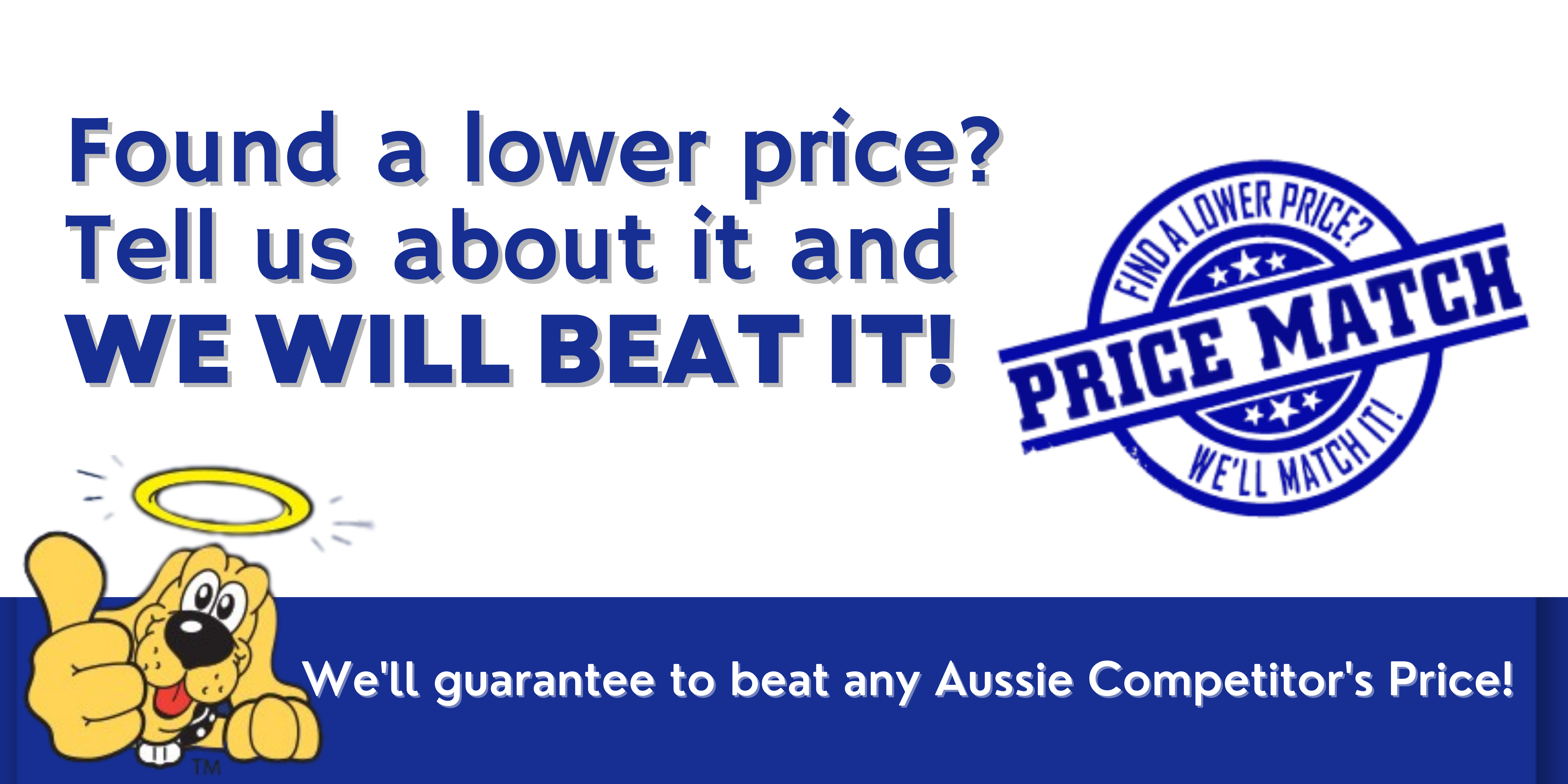 If you see an Australian competitor having lower prices than us, simply fill in the form below with all the details and we'll beat their price! On top of that, we will give you an *exclusive 10% discount of the difference.
| | | |
| --- | --- | --- |
| Sample | Calculation | |
| Our Price | = | $130 |
| Other Price | = | $80 |
| Difference | = | $50 |
| Discount | 10% of $50 = | $5 |
| Final Price for You | = | $75 |
To make the deal even sweeter for you, we'll also take into consideration the postage on the final price of the item!
Fill in the form below and we'll contact you for the price match.