Reasons to Buy at The Dog Line
Here at The Dog Line, we give you the best reasons to buy from us. We not only give you better deals but also a lot of extras that isn't offered elsewhere! Over 11 years of experience also allows us to provide the best support and service to all of our customers. Just like how it says on the top of our website, "We are 100% committed to your dog's health, happiness and well-being". You can count on us when it comes to taking care of your dog's needs!
The Dog Line will match and beat any Australian competitor's prices. With over 11 years of experience, we will create a package for you that is better than anything else you will find. Here's what we can do for you:
• Contact Us! – Fill out our Best Price Guarantee Form or give us a call with the link to the product page so we can match the price and give you a better deal!
• Special Offers / Bonuses – We can give you special offers and

calculate the postage into the deal

! We like to sweeten the deal for you!
• Better Product – We can make a suggestion for a better product that will be worth a lot more!
To further support our intention of giving you the best experience and results from the product you bought, we have offered a special trade in program for anybody who needs it. We are one of the only vendors in Australia to offer this kind of program.

All dogs are individuals - and we find we get contacted by people who have bought the wrong product for their dog elsewhere. That prompted us to offer a trade-in if they select a product and their dog does not respond to the training they can trade it in to get a different model. Here are some of the reasons why you would benefit from this trade in program.
• Your dog may grow big or small and may need a different sized collar.
• Your dog may become more obstinate or timid and may need a different product.
• Your dog may get used to the product and its effects will be rendered useless.
• Your dog may start to outgrow the product or change its mind about it.
• Your dog may need a different product if you end up with different neighbours.
• You may have bought the wrong product.
All dogs are different and they can change their minds as well. They can also start to learn and beat the system. This is why we have a trade in chart but the overall condition of the unit will help us find a value that you can put towards another product of the same style.
Try Before You Buy! We've helped thousands of people have a better relationship with their dog since 2003. If you're a bit sceptical of our products, we offer you a no interest rental plan.

Rent a Bark Control Collar

Rent a Remote Dog Training Kit

If you decide on buying the rented item, we subtract the rental fee and the security deposit from the amount you need to pay to own the product. No interest whatsoever! All we want for you is the best product for your dog. It is a great feeling to be able to change seemingly impossible situations and dog problems in to great success stories for Dogs, their Owners, for Neighbours AND Shire Rangers.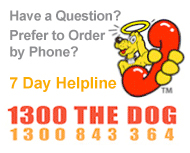 We have also helped a lot of people who have unfortunately, bought the wrong product that may have not have functioned very well, or been a great match for the dog or the situation. Whilst the results in some circumstances were bad for the dog (and relationships with neighbours and Shire Authorities), in most cases we are still able to turn the situation around and get great success. But i will say that it is harder to fix a situation like this than it is to get it right the first time (and in the long run it costs less too).
• 7 Day Helpline – Our helpline is open every day of the week, ready to support you with anything you need that relates to the products we offer. Simply call, 1 300 THE DOG (1 300 843 364) and tell us what you need help with.
• Email Helpdesk – You can send us an email of what you need help with. Please understand and allow some time for us to reply as we get a good number of emails every day. Our helpdesk email is helpdesk@thedogline.com.au.
• Contact Us Page – If you feel forms are easier to use, feel free to contact us here!
• Free Dog Fence Quote – We offer Electronic Dog Fence Quote free of charge! We want you to get the right fence on your first try so tell us everything about your dog and the problems you're facing and we'll give you a custom kit that fits your needs and your property.
• Buying Guides & Tips – We have buying guides for our products as well as documents that offers tips to solve your problem!
There is no one product or dog training system that will work for every dog, each dog has a different personality, motivation and temperament. They also live in different environments which are changing all the time. In my experience as well, people who own dogs can also end up with different neighbours who may react differently to dogs in the neighbourhood - do you have more neighbours in the street than you did 5 years ago?
So, by carefully choosing the right product AND getting the right advice on how best to apply and train the dog we find we get a better result, not only in fixing the problem but also in having the least amount of 'intrusion' or 'discomfort' to the dog - and the dog owner.  
Along with the Owner's Manual on every product, we also add a free Training Guide for all training products and Installation Guides for Electronic Dog Fences that contains our own easy to follow instructions as well as layout suggestions that may help you create your own for your property. All that information we offer you is from first-hand experience since 2003. We only include the best so you can achieve the best possible experience the first time.
Usually, dog problems are better dealt with when taken care of early on. This is why we ship daily and securely using Australia Post "E-parcel" - Registered and insured post. We will advise if we are not able to send your product immediately or offer an alternative.
It is imperative that you receive your product on time!

All in all, we try our best to give you the best possible product you need to solve your problem and the best possible experience. We would like to keep it that way and satisfy your needs as a customer. Here at The Dog Line, we value all of our customers as much as their dogs.