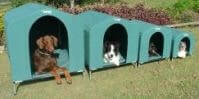 A dog kennel is a great way to give your dog a safe and homely environment.
Feeling safe and having a sense of belonging often helps with a dog's behaviour and it's relationship within the family.
Hound House portable dog kennels.
Hound House portable dog kennels are a veterinary-approved, hygienic and waterproof dog house for your dog. The Hound House Kennels are light-weight, collapsible and portable which makes the Hound House ideal for:
Permanent housing
Camping
Travelling
Visiting friends
These easy-to-clean shelters help prevent fleas whilst staying cool in summer and warm in winter. The Houndhouse comes complete with its own mattress and calico carry bag for easy storage.