Home
> Dog Treats & Snacks
Dog Treats for Small to Large Sized Dogs
Dog treats for dogs are made from the freshest ingredients.
Special dog chew treats are made of 100% natural ingredients- no artificial coloring added- safe for your dogs!
Yummy and healthy dog chew bones.
You can choose to order by piece or by pack.
All dog treats are individually wrapped for proper and easy storage.
Now you can simple bring the individually wrapped dog treat anywhere you go with your dog.
Here for you and your dog,
Colin Seal

Best Deal Guaranteed

Free Training Guide

Shipped Same Day

'Trade Up' - Trade In...

6 Month Trade In Guarantee

Aussie Buyer Protection
Trouble Free Guarantees
Lowest Price / Best Deal
7 Day Support Line
Proud Aussie Family Business (Since 2003)
Free Dog Training Guide
Supporting Animal Rescue
Have a Question? Prefer to Order by Phone?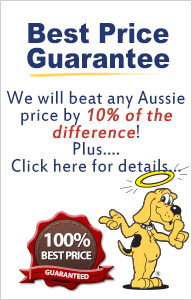 Best Deal Guaranteed

Free Training Guide

Shipped Same Day

14 Days 'Trade Up'

14 Day 'Trade up' Guarantee