...that deliver a static impulse of adjustable and programmable intensity and duration to the neck of a dog to use in behavioural modification, pet containment and obedience training.
It is true that the early collars produced in the late 1960's were very high powered and not modulated enough - this caused the public to have wrong perceptions on using such electronic collars.
But, because of the pursuit for safe and effective ways to train domestic dogs, modern versions of Competent Electric Dog Collars are now being produced by responsible manufacturers and are readily available to the public – most are actually being used in military and police dog trainings.
Studies show that in a daily basis, we experience static electric "shocks" between 20, 000 and 25, 000 volts or 3.20 to 4.05 joules from the static impulses we get from common nerve-stimulating machines.
Now, compared to the Electric Dog Collars that only use between 0.000005 to 0.0003 joules - similar to the static friction we get by suddenly rubbing our feet on the carpet or by hastily touching a metal door handle.
So, "Shock" Collars have no painful or damaging effects on dogs because they emit comparatively low amount of electric energy. Please see the chart below.
Also, due to the technological advancement of electric dog collars that has been continually developed since 30 years ago... and the different scientific studies performed - proving the positive effects of using the Static Correction Collars on dogs, E-collars are still being widely used to help contain and train dogs safely and effectively despite the criticisms it gained.
And most e-collars are programmable - the level of static stimulations that are emitted can be modified. Plus, these corrections are only mildly uncomfortable to dogs, not painful - just enough to get their attention.
So, it is very clear that an Electric Dog Collar is not cruel and cannot cause any brain damage to dogs. Instead, when used correctly and consistently, a good Electronic Dog Collar will assist in re-training a dog and improve the relationship between the handler/owner and the dog.
If you are anxious that an electric dog collar may "burn" your dog's neck, quit the worry. Because the truth is, the electrical output or static "shock" of these electronic training devices is not even close enough to injure your dog.
As you can see in the illustration above, the energy output (in joules) of these "shock" collars are relatively *way* lower than other tools that emit static pulses for human muscle stimulation - take note that these tools are already rated to be safe and they are commonly used - they do not burn any human muscles.
Also, dogs can resist electrical burns (if ever) better than humans since they have fur, thick and dry skin. Thus, the "shock" that your dog feels from an electric dog collar is merely a distraction and not pain.
The "burn" or neck sores that some dogs got (and unfortunately blamed to electric dog collars) are commonly caused by pressure sores - too much rubbing of tighten collars resulting to pressure necrosis... and the lack of the owner or handler's action in keeping the skin of the dog and the unit, clean.
Please Click the Icons Below to Read Our Clients Facebook Testimonies
An e-collar can be used in various ways and generally, it sends a stimulation to your dog - a harmless static pulse that can be remotely or automatically increased - this is to deter and correct your dog's unwanted behaviours.
Take note… the progressive levels of the static stimulation does not mean that the voltage will become higher - it only increases the emission of the correction per second (like zap... zap, zap… zap, zap, zap…) to effectively get your dog's attention (in a faster manner) or disrupt the dogs negative behaviours.
Your dog will then learn to associate the correction to the unwanted behaviour... and with consistent and proper training using the electric dog collars, your dog would only think of things that are worth doing to get praises from you.
The proper training should always include a play time, yummy treats, rubs and praises - each time your dog is displaying a positive behaviour you desire to see.
So, an electric dog collar can mainly work as:
• Electric Dog Fence Collar - This type of e-collar will stop a dog from escaping and safely contain your dog inside your property by emitting a harmless static or "zap" stimulation when the dog tries to go near the boundary area.

This is very applicable to dog-owners who do not have an actual physical fence or those who have large properties, to keep their dogs within the boundary.

Dog Fence Collars give your dogs the freedom to run within the safety of your property... and brings peace of mind to dog-parents like you, knowing that your fur-babies are safe and happy.

It is much reliable than the physical, traditional, fence that dogs can easily jump over, squeeze in, or dig under the ground just to escape. These e-collars are included in dog containment systems also known as a groundskeeper or an invisible dog fence.

Electric dog fence collars are also used to keep a dog off the expensive garden beds, livestock and even furniture. It works in a system that consists of a regulated power supply, a radio signal transmitter, a reliably strong boundary wire, a collar receiver with different programmable levels and training flags to help with efficient dog fence training.

• Bark Collar - The Electric Bark Collars will retrain your dog to reduce or stop the nuisance "unacceptable level" of barking using static stimulation - see also… Ultrasonic - Citronella - Vibration deterrents to nuisance barking.

Our bark collars do not eliminate the barking completely but re-train the dogs to bark only at acceptable levels and on necessary situations like emergencies.

There are automatic kinds of electric dog collars that get activated by a dog's bark sound and by the vibration from a dog's vocal cords - the stimulation effectively distracts the dog from nuisance barking.

• Remote Dog Training Collar - These dog training collars are remotely activated using a hand-held device.

Activating the static stimulation gives you the chance to better communicate with your dog if he/she starts to lose focus during training, displays aggressive behaviours like chasing other dogs, cars, or pulling on leads, and digging up garden beds.

Basically, these collars will help you in re-enforcing positive behaviours to your pooch.

The remote electric dog training collars also have tone and vibration modes to better train dogs especially those with sensitive temperament. If you don't want any static correction at all, you can get your dog a Citronella spray remote dog training collar.
"Shock" collars or electric dog collars are mainly categorized into three:
Bark Collars are intended to control your dog's excessive barking. The bark collars that use static (or shock) as stimulation have been very effective in retraining a dog's nuisance barking to acceptable levels.
There are also some in the market of Australia that use tone/ultrasonic, vibration, Citronella spray, or a combination of any of these as a correction.
These Dog "Shock" Collars are used to train your dog on certain commands such as sit, come, stay and heel. As well as correct unwanted behaviours such as jumping, digging, chasing and barking.
Most of the electric remote dog training collars use static as a stimulation, accompanied by tone and vibration functions. There are also some that use Citronella Spray as a correction.
The purpose of these electronic dog fence collars is to react to the wire that is placed around the property to contain the dog - as the collar reacts, a static stimulation is emitted.
All dog fence collars are static stimulated and can be set manually and automatically. Dog Containment Systems have solved problems of dogs escaping traditional fences... and ruining garden beds... and tearing off furniture.
A Coded Digital FM Frequency is on the Dog Fence Transmitter so your dog's collar won't interfere with stray radio signals around - protecting the dog from wrong zaps.
This unique coding also protects your other electronics from the radio signals of your dog containment system - your TV won't even go fuzzy.
The system also comes with a Surge Protection Warranty on the Power Plug with a Fusion Protection that protects the transmitter from lightning strikes and power surges…
and on top all that, it has a 3-year warranty on the transmitter from any fusion damage (saving you more than $250 just to replace the transmitter if damaged by power-fusion).
Same goes with the Dog Fence Collar, it has 3-year warranty from any factory defects PLUS a first-in-the-industry CHEW WARRANTY - if your dog happens to chew the collar, we will replace it one time.
What's more amazing is the Dog Fence Boundary Wire - it has 1mm 7 strand copper core (which makes it extremely tuff).
This wire is also coated with HDPe and NOT the PVC which means that you can just hang the wire on your regular fence, if you have any, since it is rated with a 20-year UV resistance - it won't easily break down in the strong Australian sun… or if you really want to bury it, you won't bother gardening around it, since even a shovel can hardly scratch the wire.
PLUS the transmitter is equipped with an advance system that will sound off to notify you if there is a wire break - this will let you secure your dog first before finding the broken wire (which will be rare) and fix it. We call this advanced system the "Wire Break Alarm".
Still Confused? Submit the Form Below and Our Team of Experts Can Give You a Hand About Our Electric Dog Fence Collars.
Discover the 7 Most Important Points to Check Before Buying a Dog Fence.
Learning to properly use an Electric Dog Collar is very important for the efficiency of your training and for your dog's safety… Since these collars are mainly categorized into three, the way you use them somehow differs:
Among all Dog "Shock" Collars, the bark collar is the easiest to use. Just simply strap it to your dog's neck and it will do the job for you - eliminate nuisance barking.
BUT taking extra care is important. There are things to remember when using an Electric Bark Collar, like fitting it properly to your dog:
• Before fitting the bark collar to your dog, make sure it's turned off

• Let your dog stand comfortably - NO fitting while the dog is sitting down

• The collar strap should fit comfortably

• Ensure comfort fit by putting one finger (or a thumb) in between your dog's neck and the collar strap

• The three probes (contact points) should be touching your dog's vocal cords

• The pressure should be just as mild as you put pressure on someone's wrist to feel the pulse

• Let your dog wear the electric bark collar for a few minutes until (s)he is comfortable

• Recheck the collar to ensure perfect fit

• Set the collar's stimulation to lowest level

• Turn the collar on to test it

• Always check the collar and your dog's neck for possible skin rashes

• Remember to not leave the collar on your dog for more than 12 hours in a day

• If possible, remove the collar at least once or twice, just for a few minutes, in this 12 hr period - to let your dog's skin breathe
Using a remote dog trainer is more complex than the using dog bark collars and electric dog fence collars. There are certain training techniques that you have to consider since the stimulation comes from you... as you press the button on your remote transmitter.
Here are a few tips to guide you on using the electric remote dog training collar:
• Fit the collar properly

• It's better to start with the tone button

• Spend 10-15 minutes per day for 2-3 days helping your dog understand the tone

• Associate the tone with reward and praise

• Push the tone button for 2 seconds

• Reward your dog with verbal praise when you release

• Spend 2-5 seconds before you repeat the process

• Vary the rewards while training for the tone function - as soon as your dog starts to anticipate a reward with the tone, you've succeeded in this phase.
• Start with the lowest level of stimulation

• Look for a slight change in your dog's behaviour:

○ Looking around in curiosity

○ Scratching at his remote training collar

○ Flicking his ears

• If you do not see any changes with his behaviour, move up to the next level

• Look out for your dog's reaction to the stimulation

• Take note of his recognition level - the level you use for communicating with your dog
You can simply buckle up the Electric Dog Fence Collar to your dog's neck, most of these collars are set up automatically... and the kits come with manuals to help you make changes in the stimulation level, if needed.
Then, the boundary wire and radio transmitter of your dog fence system will do the rest of the job. However, always remember to take extra care upon using the dog fence collar on your dog.
Now, most people commonly ask how to adjust the "shock" level of the Electric Dog Fence Collar. Here are a few tips:
• Remove the collar from your dog before you make the adjustment

• On the dog fence collar, look for the push button

• Remember that standard collars commonly have at least 5 static levels (more if you have a premium collar)

• The static levels are represented by a series of blinking light and beeping sounds

• To test if the collar works, press the button once

• If you see a blink and hear a beep, the collar is on

• Press the button again

• You will be able to determine the level the collar's stimulation by the series of beeping sound and blinking light (e.g. one blink means level 1 and five blinks means level 5)

• Press and hold the button for 5 seconds if you wish to increase the the stimulation level

• The series of beeping or blinking indicate the new level

• Press the button continuously until you reach the level that you desire

• Continue pressing and holding the button if you want to decrease the correction level

• You'll notice that it goes back to the lowest level (e.g. one blink or beep)
Note: Remember that other dog fence collars have different buttons - like inverted buttons that need a pin and others need tweaking than pressing. It's always better to keep and check the operation guide that comes with your electric dog fence kit. This is to also uphold the safety of your Electric Dog Fence.
Electric Dog Collars help you achieve the maximum positive behaviour for your dog in less time and with less effort. That's how efficient these dog electronic collars are.
Take a look at what these experts are saying about the efficacy of Electric Dog Collars:
"Both radio-controlled and behaviour-activated electronic devices have been recognised as effective and humane training equipment when used properly and in accordance with humane principles"
—Steven R. Lindsay, Handbook of Applied Dog Behavior and Training, Volume 3, Procedures and Protocols, 2005, Blackwell Publishing, p. 570
"I like the way (static stimulation) works and the fact that it gives "gentle" to high level reminders to keep behaviour in check"
—Shirley Lehmann, Veterinary Technician, Red Deer, Alberta, Canada.
"Our Canine Unit has been in existence for 15 years and has depended greatly on the use of remote training collars. The devices aid in teaching new exercises using low level stimulation. They are also very useful in controlling the dog at a distance while allowing our officers to keep their hands free, a very important officer safety issue. Most important, it limits the department's liability. We have yet to have an accidental bite of an innocent bystander…If we can prevent our dogs from placing themselves in dangerous situations by the use of low-level stimulation, it is our responsibility to do so."
—Sgt. Rod Hampton, Canine Unit Supervisor, Round Rock (Texas) Police Department Canine Unit Supervisor, open letter, August 7, 2002
There are certain state information on the legality of electric dog collars in Australia that you should further check… but to sum it up, in the states of Queensland, Western Australia and Tasmania, there are no specific restrictions on the use of these dog shock collars.
In the state of Victoria, there are certain legal requirements and conditions to follow.
New South Wales does not allow electric dog bark collars and remote dog training collars but gives certain conditions on the use of Dog Containment system.
In the state of Northern Territory, the use of these electric dog collars are allowed only if authorised by a law in force in the Territory.
South Australia and Australian Capital Territory prohibit the use of these Electric Dog Collars.
So, peeps from QLD, WA, TAS can freely celebrate the success of dog training with electronic dog collars. If you are from VIC or NT, you better request for approval from your local councils.
If you are from NSW - cheer up, because, at least, you can still take advantage of having an awesome Electric Dog Fence.
The answer to the question whether these Dog "Shock" Collars are good or bad, humane or not, depends on how a person uses it to his or her pet.
We all know that everything (and everyone) has light and dark sides… right?
Sentiments aside, one thing is for sure - these collars are manufactured with the best of intentions and are carefully designed to promote comfort and safety for both of you and your dog.
Look at what these experts has to say about Electric Dog Collars:
"No comparable techniques or tools currently available can match the efficacy and safety of the e-collar for establishing safe and reliable off-lead control. If minimising the intensity, duration, and frequency of aversive stimulation during training is recognised as a significant factor in the definition of humane dog training, then the radio-controlled e-collar must be ranked as one of the most humane dog-training tools currently available."
—Steven R. Lindsay, Handbook of Applied Dog Behavior and Training, Volume 3, Procedures and Protocols, 2005, Blackwell Publishing, p. 586
"In the past ten years at our training center, we have 'rescued' over 100+ dogs that would have been turned in to shelters or euthanized because the dogs were deemed uncontrollable. These are dogs from normal households that failed to learn for whatever reason. These dogs come to our training center and spend two to four weeks learning how to respond to the training collar. We do not punish with it, but teach the dog to pay attention, learn right from wrong, and develop self control and a solid sense of teamwork. These dogs go back home with their owners, who easily maintain control by occasional application of a tone or stimulation to remind their pet of the rules."
—Phyllis Giroux, D.V.M., CAC
"…we feel that new technology employed by responsible manufacturers has led to products that can be and are being used safely and effectively to preserve the safety and wellbeing of many dogs and strengthen the bond with their human companions."
—Dr. Randall Lockwood, Senior Vice President, Anti-cruelty Initiatives and Legislative Services, The American Society for the Prevention of Cruelty to Animals (ASPCA).
Check out the prices of these 3 main categories:
Our best deal of Dog Bark Collars starts from $38 (rental price) up to $206.99. Click the icon below to see all of these amazing electric bark collars.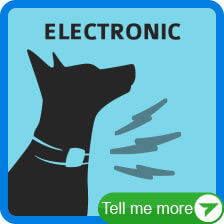 We got affordable price for remote dog trainers - it ranges from $28 (cheapest rental price) up to $1,169. Click the icons below to see an array of *only* the best dog remote trainers in Australia.
The price of an Electric Dog Fence depends on your property. If you need one, we can give you FREE quote and FREE consultation. PLUS, you'll get our Info Pack and Buying Guide. Just fill in the form below.
If you have more questions about Electric Dog Collars, give us a call on our 7-Day Hotline at 1-300-(THE-DOG), 1-300-843-364. Do not hesitate to CONTACT US.