Lisa's Dog Fence Reviews with Jack and Molly
Lisa has had our Pet Barrier electric dog fence for over 2 years. Lisa tells her story in her dog fence reviews and testimonial. Every dog parent will be able to relate with Lisa and her experiences with her dogs- watch the video and meet Jack and Molly. 
Jack's favourite toy is a lump of wood that he tosses around and takes everywhere. Except, he does all this down their open driveway.
This product could save a dog's life, please recommend to your Facebook friends
Do You Want to Know More About the Pet Barrier Electric Dog Fence? Click any of the buttons below:
Invisible Dog Fence as a Pet Barrier to Horses
Here's another wonderful note from Hayley about using her radio dog fence Pet Barrier with her dogs and horses. She easily moved the dog fence wire to keep the dog away from the horses during feeding time.
Living on a hobby farm of 15 acres, installing the pet barrier is by far one of the best decision we could have made for our property. Our very energetic boxer now has a large area where she can run freely. Safe from cars and horses and the sheep and chickens are safe from her!

It took no time at all for her to get used to the area she was allowed in. We can go out with peace of mind that she'll be safe and happy while we're gone.

Thanks Dog Line.
Hayley, Dave, Chaise and Daisy Saunders
Which Dog Fence feature is important to your dog's safety?
* FM Radio Frequency * Surge Protection * Fusion Warranty * Wire Quality *
* Individual Programmable levels * Water proof * Battery Life * Lifetime warranty *
* Chew warranty * Tri-Antenna *
Are You Ready to Buy Your Own Electric Dog Fence and Say Goodbye to Your Dog Problems? 
First, get your personalized dog fence quotation so The Dog Line team can help you get the RIGHT Pet Barrier Dog Fence for you and your dogs.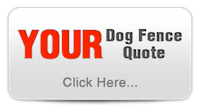 Pet Barrier Dog Fences - Video Index: Helpful Tips for You
Here's to well behaved dogs in every neighbourhood!
Each of our Pet Barrier dog fence kits comes pre-prepared and ready to plug in on the kitchen bench to test and experience how it works. Each dog containment fence kit comes with every thing you need for your dog.
The Dog Line will hold your hands in testing and installing your dog fence kit! Our Seven day help line is open everyday of the year to assist you in ensuring you get long term success.
You can also call us now at 1300 THE DOG (1300 843 364) so we can answer any of your questions and further help you with anything dog related.
Here for you and your dog,
Colin Seal