. Green earthing wire is connected to a ground stake or earthed pipe. DogWatch offers a surge protection warranty that covers it for energy strikes or fusion to the transmitter. This external lightning protection system and guarantee are not offered by other makes or models. During lightning storms, the transmitter can be affected by energy running back through the boundary wire or through the main power. An external surge protector prevents fusion to the transmitter, and the warranty covers any damage (provided the earth wire is connected).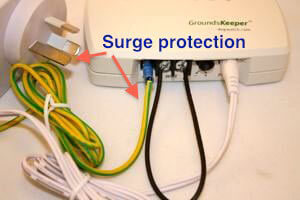 The Boundary Wire
The
boundary wire
travels to the boundary or protected area. The wire must return to the transmitter and form a closed circuit or loop. Smaller areas may only need a small transmitter. The
Dogwatch System
has a very stable signal that will allow the protection of intricate garden bed designs and thin radio signals. Circling the property is usually the easiest and safest solution for your dog. Our customer service team can discuss an on-site installation or provide a map designed for your property. Email an
enquiry here
.  
The Radio Signal
The radio signal is projected from the wire in a circular fashion. The depth of the signal can be adjusted at the transmitter. This radio signal is harmless, and the wire is safe to touch. The signal has 2 sections; the warning zone (approx. 20%) and the correction zone.
DogWatch
features a
coded digital FM Radio Signal
and a block method of correction (the programmable receiver collar will react at its set level as soon as it picks up the radio signal). This combined with the correct training minimises the chance of a run-through. The receiver collar also has 'Fast React' and will react within 1/8th of a second of entering the zones. (A dog attempting to run at the boundary is deterred quickly)  
The Receiver Collar
The receiver is a small box attached to a collar. It has
2 probes
that rest against the dog's skin. The collar will react when it enters the radio signal. In the warning zone, it will give off an audible tone. DogWatch offers 'Anti Linger'; the receiver will give a static stimulation if it remains in the warning zone for 20 seconds. When the receiver enters the correction zone it will give the dog a static stimulation. DogWatch offers a receiver with programmable levels to suit the needs of your dog's training requirements. See '
How does it feel
'?
Laying the Wire
The wire can attach easily to a fence or be buried underground to cross driveways. Our customer service team can offer advice on the best approach to your property. Consider the strength and thickness of the wire to ensure a long-lasting and secure boundary. We offer a wire 1mm in diameter coated in HDPE that is UV stable and is able to resist moisture. Email an enquiry.