Home
> Pet Barrier - Electronic Fence
Invisible Dog Fences- Electric Dog Fences Australia
Invisible dog fences are popular solution in stopping your dogs from escaping from your property and digging holes in your garden. If escaping dogs and digging dogs are your usual scenario, read on and learn how invisible dog fences and THE DOG LINE can help you.
If you know all these important things and want to go straight to acquiring your dog fences, click the quotation icon below:
High Quality Invisible Dog Fence Features That Set The Dog Line from the Rest:
- Built in Surge Protection on the power adapter.
- FM Coded Digital Frequency from the transmitter– Won't be interfered with any other signal
- External surge protection box to protect the transmitter (on 1 acre+ kits)
- Our warranty covers any fusion damage to the dog fence transmitter.
- 2mm fence wire coated in HDPE – For strength and UV protection
Let us help you if you have questions- call us on our Seven Day Help line 1300 THE DOG (1300 843 364) and get your Free Personalized Quote.
You can also refer to our very comprehensive FAQ page here.
Watch the Video for Easy Dog Fence Installation Tips
How Does an Invisible Dog Fence work?
Each of our Invisible Dog Fence Kits, also known as Radio Dog Fences or Electric dog fences are packed in a ready-to-go kit for an easy D-I-Y installation.
The Dog Line Dog fence kit comes with a heavy duty copper wire that is coated with High Density Polyethylene (HDPE) for protection against UV and Australian weather. This wire transmits a radio signal around the boundary and sends a transmission on the dog fence collar for your dogs.
When the dog collar receives the signal (that is when your dogs comes near or goes over the dog fencing wire), it gives out a low level stimulation to stop your dogs from jumping or digging. The level of stimulation can be increased or decreased depending on your dog's needs.
Stop a Dog From Digging
The invisible dog fencing stops a dog from digging on your garden beds and escaping from your property.
The hidden dog fence wire will simply sit on the fence or lay under your garden beds and sends signal to your dog's collar when it needs to correct and deter the dog. With invisible dog fences, you don't have to put up with unsightly electric wires for your dogs.
We understand that not all dogs are alike so please contact The Dog Line on our Seven Day Help line 1300-THE-DOG for a Free invisible dog fences quote... so we can discuss the best options for you, your dog and your property.
Here for you and your dog,
Colin Seal

Best Deal Guaranteed

Free Training Guide

Shipped Same Day

'Trade Up' - Trade In...

6 Month Trade In Guarantee
Invisible Dog Fence Reviews

Aussie Buyer Protection
Trouble Free Guarantees
Lowest Price / Best Deal
7 Day Support Line
Proud Aussie Family Business (Since 2003)
Free Dog Training Guide
Supporting Animal Rescue
Have a Question? Prefer to Order by Phone?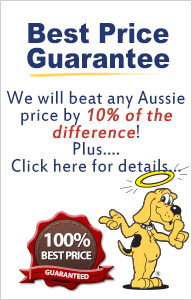 Best Deal Guaranteed

Free Training Guide

Shipped Same Day

14 Days 'Trade Up'

14 Day 'Trade up' Guarantee