Electric Dog Fences - The Most Effective Dog Containment Fence
30-Day MONEY Back Guarantee of SUCCESS *
No traditional FENCES needed.
The electric dog fence is also known as a hidden dog fence, invisible dog fence, in-ground radio fence, or above ground electric dog fence. It is a wired fence system that uses radio signals to produce an electric stimulation to the dog. The stimulation happens on the receiver collar through the contact posts that touch the dog's skin in the neck every time the dog challenges the boundary. 
The main components of our electric dog fence are the transmitter, receiver collar, boundary wire, and the power plug. Here at The Dog Line, we're very selective in our electric dog fence components to ensure that we deliver a top of the line service.
We customized some components to make sure that it is durable, reliable, and safe for both the dog and the owner. Our electric fence for the dog has a wire that is suitable above and under the ground.
The dog electric fence is the best way to stop your pet dog from escaping from your property, digging holes in your garden and running through your open gates. Losing your pet will make them end up in the dog pound and you'll surely have to claim them for a price. In the worst scenarios, it might cause road accidents. Either way, you're the one responsible for it. Get your dog protected with our electric fence system.
Find out how to do this by simply filling in the form bellow and well send you our FREE BUYING GUIDE straight to your inbox.
Click on any of these icons to see the videos and more information
Meet Oscar, "The Chicken Chaser"
See How we Stoped him from Escaping
We have already replaced a lot of dog fence systems that failed and easily break - WATCH OUR VIDEO HERE

More About Electric Dog Fences and their Benefits:
These Electric Dog Fence Kits have been PROVEN to be safe and effective in containing dogs of any breed and size - you just have to find the best of quality dog containment system. Read on below to find the right system-solution for your escaping and digging dogs.
TUFF Dog Fence Wirewith 7 strand 1mm COPPER CORE, coated with 2mm HDPe - For RELIABLE strength and 20-year UV protection.

Regulated Power Supply to give consistent Radio Signal Depth NO FALSE ZAPS.

FUSION and LIGHTNING DAMAGE Warranty on the circuit board - if ouy dog fence transmitter dets Damaged by power surge, it's covered by our warranty.

High Quality Dog Boundary Receiver Collar - 1/8th of a second fast correction with first in the industry Dog Chew Warranty.

External surge protection box to protect the transmitter (on 1 acre+ kits)
We have already replaced a lot of dog fence systems that failed and easily break - WATCH OUR VIDEO HERE

Each of our Invisible Dog Fence Kits, also known as Radio Dog Fences or Electric Dog Fences are packed with everything you would need for one dog ready-to-go including the first 100m of Dog Fence Boundary Wire, our FREE Training Guide and a pack of Training Flags for an easy D-I-Y installation. Just plug it in the kitchen bench, read the manual, installation guide and training guide and you are good to go.
If you are wondering, How much do Invisible Dog Fences Cost? It would differ depending on your needs, how big your property is and how many dogs you have. Each Dog fence can be personalized all you need to do is: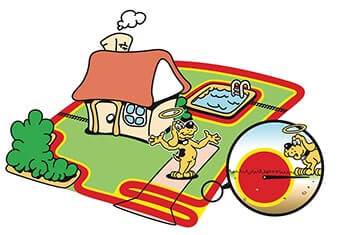 The Pet Barrier Dog fence kit, highly recommended by The Dog line, comes with a heavy duty copper wire that is coated with High Density Polyethylene (HDPe) for protection against harmful UV rays and the not-so-friendly Australian weather.
The dog fence wire transmits the FM radio signal around the boundary and sends a transmission to the dog fence receiver collar for your dogs.

When the dog fence collar receives the signal (that is when your dog comes near the dog fence wire), it will activate the warning beeps for your dog.

Once your dog pass the warning zone and continues to go near the fence, the receiver collar will activate the harmelss static stimulation to stop your dogs from jumping or digging.

The level of stimulation can be increased or decreased depending on your dog's behavior and temperament.
We all love a wonderful garden with flourishing flowers and plants. However, your dog love them as much as you do -they love digging them.
The best solution to stop your dogs from digging into your garden beds is a trusted and reliable Dog Containment System - the Pet Barrier Electric Dog Fence.
Our invisible dog fence system effectively stops your dog from digging on your garden beds and from escaping from your property.
The hidden dog fence wire will simply sit on the traditional / physical fence or lay under your garden beds and sends signal to your dog's reciever collar when it needs to deter the dog away from the garden bed. With invisible dog fences, you don't have to put up with unsightly electric wires for your dogs.
The Pet Barrier Electric Dog Fence system
A high quality Invisible Dog Fence with the best quality dog boundary collars, like the Pet Barrier Dog Fence, will certainly stop your cheeky dog from escaping.
Many folks have used our Invisible Dog Fence system for 5 years, some 10 years and more... and they have testified that the system is still working great after such a long time!
Before Dog Containment Systems, people have tried putting up higher traditional fences or adding more regular fences which actually cost them more money - but dogs, especially those stubborn hounds, can still jump over it or dig beneath it just to escape. Pet Barrier Electric Dog Fence is indeed more effective and cheaper than your traditional brick or wall fences.
Also, one thing that you should look out for is the battery life on the dog boundary receiver collar. Some dogs are clever - they "learn" to drain the battery.
Good thing, our battery is exceptional and can last up to 2 years. Plus, the receiver collar comes with the Anti-Linger Technology - this helps lengthen the battery life by never letting the dog stay in the warning zone to drain the battery, this feature safely zaps your dog after the warning beeps are activated but your dog did not back away from the warning zone.
Now, stop settling for less - get a high quality dog fence system to effectively keepsafe your dogs inside your property.
Use a Our High Quality Electric Dog Fence
Pound fees or council fees are the most common cost of dog owners who have cheeky dogs who kept on escaping.
Another is the vet fees - some folks are left with no choice but to take their dogs to the vet after an injury caused by an escaping drama.
Worse, it may cost you the life of your dog if he/she escapes and get hit by a car.
One of our valued clients, Rob, was a "VIP member" for collecting his dogs from the pound (LOL!). Hey, that's REALLY expensive.
If only Rob installed our high quality Pet Barrier Dog Fence system earlier... it won't cost him that too much money, stress, time and energy - having to go to the pound just to free his dogs.
This is a lesson learned and wisdom earned:
"It's (Pet Barrier Dog Fence system) probably the best thing to keep. To keep a good relationship with your dogs without going angry at them.

- Rob
We have wide options of electric dog fences that surely fit to your dog types and different areas that you want to be safe such garden beds, small property, large property and even indoor property. Each type has their own distinct features that offer a great deal for both of you and dog.

We understand that not all dogs are alike so please contact The Dog Line on our Seven Day Help line 1300-THE-DOG for a Free invisible dog fences quote...so we can discuss the best options for you, your dog and your property.