Private Videos
Tell us a bit about your dog and receive the Dog Fence guide and info Before Watch The Video
It takes less than 4 minutes to complete and it's worth a bundle.
Electronic Dog Fences pretty much all work in the same fashion 
Power supply - Transmitter - Wire - Radio signal - Dog Collar... But are they all the same?
It's a bit confusing out there with prices and features, they vary from super cheap to more expensive and advanced models - but I've found that getting a good quality Dog Fence system...
1. is much Cheaper than traditional fencing.
2. Saves you money in breakdowns, Broken wire and replacing poor quality parts (some of our clients have been through 3 or 4 systems before they talked to us... and that is paying twice in the long run.)
3. And the battery life alone will save money and many headaches if you forget to check.
Getting a good quality fence kit first up so that you are ensured long term success, save money and headaches

Have you heard the saying "Buy on price - Buy twice"?  -  Well with the wrong dog fence could cost more than Twice.

Pound Fees... Vet Bills... and Accidents. You are responsible for your dog especially if he is off your property... and (God Forbid) what if your dog didn't make it home. (Micro Chips and Dog Tags folks) Then, you still have an escaping dog on your hands and a Dog Fence that does not work.
When is the right time to buy an Electronic dog fence?
When you get that first little scare (driving home worrying about where your dog is) Or when you start to try to build the fence up or plug up holes where you dog is escaping.
People usually inquire about our dog fences when they have had a big scare or have tried everything they can with barricades and fence extensions. Have you had that horrible feeling when the dog got out and they couldn't find it? 'Gut wrenching, to say the least'.

So, what we have done is put together a guide. A simple guide that explains each of the components that go in to helping keep your dog secure and what to check for when you look at a Dog Fence kit.

If you fill in this form you will be taken to a download page... by the time you finish reading this little guide you will be in the TOP 10% of people in the country who understand Radio and Electronic dog fences.
Each Dog Fence Kit comes complete - ready to plug in and test.
We connect a small test loop to the system... so you can plug it in as soon as you receive it.
Read the manuals - Owners manual - Installation guide and our Dog Training Guide. Place the collar in test Radio Signal... Notice the indicator light and hear it working, then it's easy to learn how to change the levels. The levels make the training so easy... once you learn how to change the levels the training guide really makes sense. We don't want to cause your dog any unnecessary discomfort or we will end up getting "porch sitting syndrome" which usually results in failure further down the track.
How Does it Work
An Invisible Radio signal around your property that your dog can't Jump Over, Run Through or Dig Under.
- Each kit can be designed to suit the individual dog based on their determination to escape as well as the type of property and fencing.
- The kit is delivered complete and ready to run. Simply plug it in (straight out of the box)... Read the owners manuals, Installation guide and easy steps training guide - before you run the wire - call our seven day helpline for advice if needed.
- Follow the installation guide to simply run the boundary wire around the property - no need to bury the wire and it can sit underground across any gates or driveways.
- Follow the step by step training guide - and call at any time for advice.
One of our Dog fence Wire layouts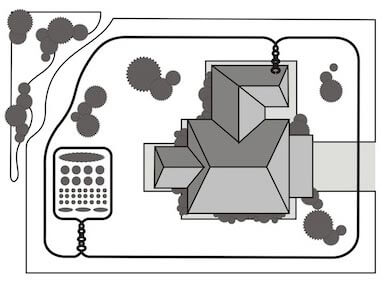 One of our Standard Wire Layouts


The wire simply travels for the transmitter to the fence, around the area you want your dog to stay in and then returns back to the transmitter. No Need to bury the Dog Fence Wire - 20 year UV rating allows you to simply hang it on the fence.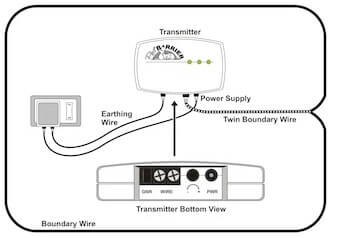 The Transmitter design.
The kit is already wired up and ready to go straight out of the box. Simply plug it in and test it before following the installation guide.
* notice the additional earthing wire to protect the Transmitter from energy spikes- This could save you hundreds in replacement costs and is COVERED BY THE WARRANTY for fusion damage.