Home
> Can my dog get over-corrected?
Can my dog get over-corrected?
The
Pet Barrier Dog Fence System
is designed to protect your dog from an over-correction in the unlikely event that your dog gets caught in the signal field. If your dog does not exit the signal field, the collar will automatically stop correcting after 15 seconds to protect your dog from over-correction. The dog will also receive a `warning` correction every 15 seconds which will continue until he leaves the field.
Check out our
Pet Barrier Electronic Dog Fences
online.

Aussie Buyer Protection
Trouble Free Guarantees
Lowest Price / Best Deal
7 Day Support Line
Proud Aussie Family Business (Since 2003)
Free Dog Training Guide
Supporting Animal Rescue
Have a Question? Prefer to Order by Phone?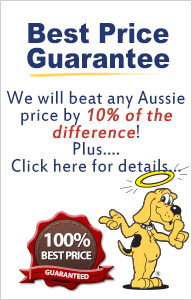 Best Deal Guaranteed

Free Training Guide

Shipped Same Day

14 Days 'Trade Up'

14 Day 'Trade up' Guarantee