Home
> Is there a guarantee?
Is there a guarantee?
Yes.
DogWatch
offers a manufacturer's warranty for the lifetime of the product on the
transmitter
and the
receiver
. The receiver is also the only receiver that is covered by a
chew warranty
. The receiver is made from a very strong material so if a receiver is chewed and destroyed it will be replaced (one replacement per dog).

Aussie Buyer Protection
Trouble Free Guarantees
Lowest Price / Best Deal
7 Day Support Line
Proud Aussie Family Business (Since 2003)
Free Dog Training Guide
Supporting Animal Rescue
Have a Question? Prefer to Order by Phone?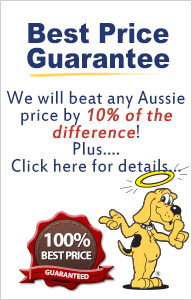 Best Deal Guaranteed

Free Training Guide

Shipped Same Day

14 Days 'Trade Up'

14 Day 'Trade up' Guarantee