Choose the Right Dog Fencing Options
There are a number of dog fencing options that you can use for pet containment to contain your dog, however, most people prefer a Dog Fence without the need to construct an unsightly intrusive physical fence. The most effective solution when looking at dog fencing options is a radio signal Pet Barrier that will keep your pet safe and secure in your yard.
Send this to YOUR Facebook Friends here...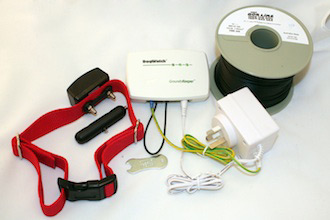 Selecting the Right Dog Fencing Options for Your Needs
Pet Barrier offers a number of dog fencing options to suit various requirements. Whether you are looking to contain your pet in a large property, or a small suburban garden; or simply keep it out of a garden bed or a specific room in your house, there is a Pet Barrier product to cater for every need. Check out other Electric Dog Fences Reviews now!
Dog Fencing Options and Pet Containment
The electric dog fencing units come in kit form and are easy to install. The FM1200 Dog containment kit comes standard with an FM1200 Dog Fence collar and is suitable for fencing large properties from ½ acre, but can be used to create a dog fence up to 100 acres by simply adding more wire.

The Grounds Keeper dog containment DIY kit is perfect for smaller properties up to 1 acre. It couldn't be simpler, just run the wire and plugin for instant pet containment. Ideal to stop a dog jumping the fence or to stop a dog digging in the garden.
Have a look at our video review of the Pet Barrier dog fence, which explains how it provides a unique solution to preventing your dog from escaping and is one of our more popular Dog Fencing options.
Dog Fencing Solutions to Keep Your Pet Out
There may be instances where you need to keep your pet out rather than in. Pet Barrier offers dog fencing options for this purpose for both outdoor and indoor situations.

The Grounds Keeper kit will not only keep your dog contained within the boundaries of your property, but it can double up as a protective garden bed barrier, enabling you to enjoy a much-loved dog and a much-loved garden at the same time.

While many of us love to include our dogs as part of the household and family by allowing them access to the living area, there are often areas in the home, such as a bedroom, that are out of bounds to your faithful friend. The Skedaddle indoor wireless radio transmitter provides an electronic barrier that is effective for keeping your pet out of any area up to 4m in diameter by creating a pet exclusion zone wherever you choose to plug the unit in.

Whether you are wanting to contain your pet or exclude your pet, Pet Barrier offers a choice of practical, easy to install, dog fencing options to suit your needs.

Are you following The Dog Line on Facebook? Make sure you recommend our products online which will be automatically shared with all your friends on Facebook.
Here for you and your dog,
Colin Seal