Dog Fence Review
Learn about the importance and features of Radio Dog Fences and electric dog fences in keeping your dogs and cats safe within your property. Know how you can safely prevent dogs from escaping and possibly hurting themselves and know how you can stop your dogs from digging in your garden.
Dog Fences and types of fencing
Each dog is different and an escaping dog can get in to danger. Read our Blog posts to find out more about dog containment and contact us for a chat about getting the right electric dog fence to ensure your dog stays safe.
Colin Seal - Tuesday, November 15, 2011
How to Make a Dog Enclosure
If you want to know how to make a dog enclosure to contain your pet, a wireless electric dog fence offers a quick and easy solution for pet containment.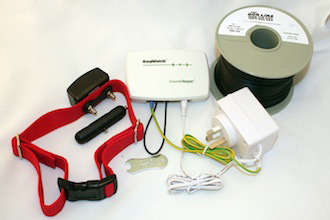 How to Make a Dog Enclosure to Safely Contain Your Pet
If you want to know how to make a dog enclosure that will safely contain your pet we offer the perfect pet containment system in the form of the Pet Barrier Grounds Keeper radio dog fence. For more Electric Dog Fences Reviews, visit here.
This electric dog fence is a complete DIY dog fencing kit that is simple to install and effective at keeping your dog contained in your yard.
The wires can be attached to an existing fence to stop a dog from escaping, they can be run along the surface of the ground, or they can be buried to provide a completely wireless electric dog fence that will effectively keep your pet in your yard.
Your dog won't be able to run through it, jump over it, or dig under it.
How to Make a Dog Enclosure: Step by Step
1) Purchase Pet Barrier Ground Keeper Kit.
Extra wire can be purchased if a larger area needs to be enclosed. Additional receiver collars can also be purchased separately if you need to contain more than one dog.
2) Run the wire around the area you need to enclose.
The heavy duty HDPe dog enclosure wire is flexible so you can use any configuration that you wish.
3) Plug in and follow the dog training program (thats it!)
You are now good to go. You can safely leave your dog in your yard, with the peace of mind that he is safely enclosed and cannot escape.
Wireless Electric Dog Fence Kit
The Pet Barrier Grounds Keeper radio fence kit comes with 100m of wire, a transmitter, and one receiver collar.

We offer a 100% guarantee of successfully containing your pet with the Grounds Keeper, and a Seven Day Help Line for support and technical queries.

If you are wondering if the kit provides information on how to make a dog enclosure, the answer is yes. It includes user manuals and a comprehensive installation guide clearly explaining how to make a dog enclosure.



Here for you and your dog,
Colin Seal



---

Aussie Buyer Protection
Trouble Free Guarantees
Lowest Price / Best Deal
7 Day Support Line
Proud Aussie Family Business (Since 2003)
Free Dog Training Guide
Supporting Animal Rescue
Have a Question? Prefer to Order by Phone?

Best Deal Guaranteed

Free Training Guide

Shipped Same Day

14 Days 'Trade Up'

14 Day 'Trade up' Guarantee