Getting the "best" wire for your dog fence can spell SUCCESS in your training. A wire break almost always causes headaches on the dog owners like you. Once the wire breaks for whatever reason, you would have to go through a whole roll of inconvenience.
THE BEST WIRE AND THE WIRE BREAK SCENARIO
What really happens if you get a wire break?

Your time is consumed.


First, you would have to call the technician to have it fixed. That may entail scheduling the technician; getting time off from work or worse canceling a prior appointment to ensure you are there to personally assist the technician during the repair.

The technician then comes to the property to assess and check exactly where the broken wire is.

For smaller areas, it may just be quick, but for wider areas, it may take hours of testing and detecting. The number of wire breaks may also be considered in estimating the time it takes.

Although fence repair is a service that is offered locally, it can still be a hassle on your end; considering you have to allocate some time for the technician to come over and do the repairs. It is also important to note that repairs on wire breaks would have to be done on the site itself.
You Incur Additional Expenses
Repairs or replacements however small they may always entail a cost. You pay the technician, you buy additional wire, and you may also lose potential income if you have to be off from work during the repairs.

These unexpected expenses may affect your budget, and the gravity of its effect will depend on the strength of your wire.

The weaker your wire; the more expensive it will be in the long run.
The Training Process is Jeopardized
Consistency is one key factor in the training process. A few days of interruption in the training process can cause your dog to backslide, causing both of you to be back on square 1.

You may check this link http://www.seizetheleash.net/files/consistency.cfm to know how important is consistency in training your dog.
The "Best Wire"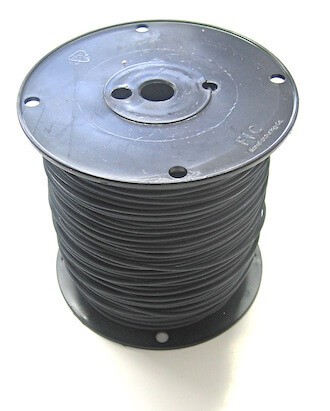 In our 12 years of experience in installing dog fences; we use and highly recommend the High-density polyethylene-coated 7string copper core wire. It is a very strong wire. It is gauge 16 and is proven to withstand outside factors such as gardening, weather, and even corrosion. It is definitely the best wire for your dog fence.

You can hit it with a shovel several times and see that it will not break the wire or if there would be little tears; it will surely be only on the coating but not on the copper wire itself.

You may check our video https://www.youtube.com/watch?v=BAL6zmwooWE&list=UU6FJpt4ilZmc-hvD-9hFx7A to see how tough these wires are.
High-density polyethylene (HDPE) as wire coating
The copper core is coated by high-density polyethylene (HDPE); it is a polyethylene thermoplastic made from petroleum. It is known for its large strength to density ratio. It is commonly used in the production of plastic bottles, corrosion-resistant piping, geomembranes, and plastic lumber.

To know more about HDPE you may check this site http://en.wikipedia.org/wiki/High-density_polyethylene
Spare yourself from trouble; get the "best wire"
For dog fence kits, our fence will actually be the "wire" itself. So, the same analogy applies if you get yourself a weak fence at home.

Investing in a good wire may cost a little more at first but in the long run will definitely save you time, effort and money. A "strong and durable" wire for a dog fence system is definitely a key factor in protecting not just your investment but also your pet. Again get the "best wire" for your dog fence.

If you have any questions about quality wire for your dog fence, give us a call at 1 300 THE DOG (1 300 843 364).
Here for you and your dog, Colin Seal