Zero Risk Dog Training Collar Rental
If you're still unsure of buying a dog training collar, The Dog Line offers you a rental option.
Rent first and then buy later....
No risk, minimal fee and fair trial options.
2 weeks of dog training collar trial should be enough to start the training on your dog and see the results.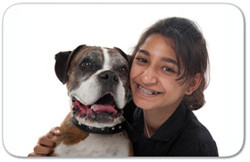 Get The Dog Line's Remote Dog Training Collar for Hire 
Start training your dogs and experience improvement on their behaviour. Use the dog training collar rentall from The Dog Line to correct your dog's unnecessary barking. Call us on our 7-day helpline for any assistance. 
Renting a dog training bark collar has absolutely no risk and hidden charges. 
---
Click here to purchase The Dog Line's Petsafe Remote Training Collar today! 
RENT - TRY - BUY
Deposit = $80.00
2 weeks rent = $38.00
17 days (3 Extra to train)
Total = $118.00
(postage $12 = $130)
Balance to pay if purchasing = $91.00
We Deduct the deposit and the Rent.
Deposit is refunded if returned...
OR - convert to another product
The Balance to pay is always related to
The Current product price - less...
the rental fee and the deposit
Remote Dog Training Collar Features:
Weather Resistant Transmitter - Remote

Waterproof dog training collar - no need to worry if it rains or your dog gets wet.

Up-to approximately - 90m of Coverage.

10 levels to select stimulation to find the right level for your dog.

Tone only warning button - attention or reward 'beep'

3 year Manufacturer's Warranty
When to Hire a Dog Training Collar?
If your answer to any of following is YES, it's time to call- 1300 843 364 and buy a dog training collar or simply HIRE DOG TRAINING COLAR HERE.
Is your dog behaving badly?

Are your neighbours complaining of your unruly dog?

Is your dog at risk of running away?

Is your dog becoming overly aggressive?

Is it hard to control your dog?
Enjoy a risk-free dog training collar rental for 2 weeks and 3 days! 
You don't have to hope it works and you can change or trade-in the product or system if you need to... check it out here.
Are you looking for more remote dog training collars? Click here to browse through The Dog Line's collection of high quality remote dog training collars. 

le_productfeaturelist,P RENT TRY BUY Dog Collar,100,Alphabetical,,}