SportDog Training Collars are designed for durability and reliability, as well as for better off-lead control in the most rugged terrain. These collars are best suited for your sporting, hunting, or working dogs. We are also featuring the new Sportdog TEK GPS dog tracking collars. Scout below to see more amazing SportDog collars.
These are some of the amazing features and benefits of these bark collars: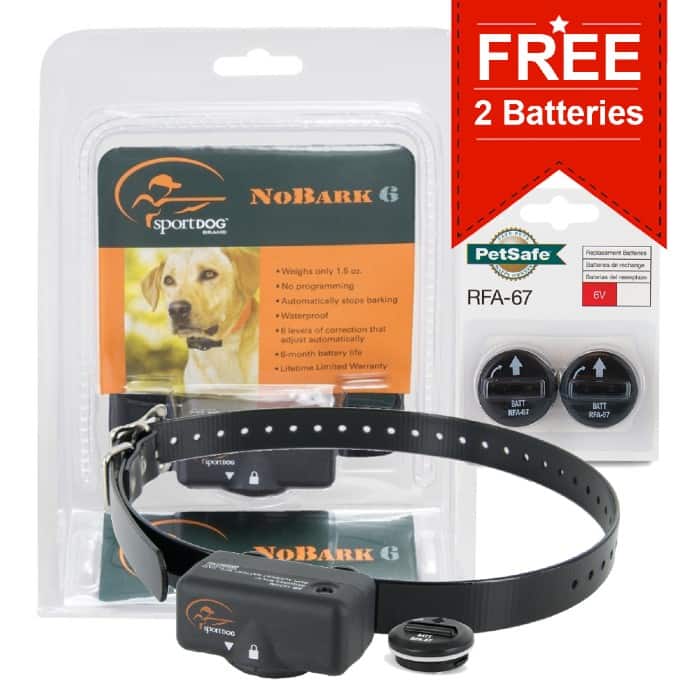 Even though SportDog Electric Bark Collars are manufactured to be durable, they still come with an amazing guarantee - the 3 years warranty! You can throw your worries off the window since this has got you covered. This feature is definitely suitable for heavy-duty bark collars.

Plus, the waterproof design gives you peace of mind during bark control training. You can leave your dog around the pool area or in the yard with the sprinklers on - the collar is definitely submersible. This is great for your water-loving hounds.

These bark collars also come with multiple levels of harmless static pulses or corrections. You can set the stimulation levels manually to adapt to your dog's temperament and barking behaviour.

The static correction is also progressive - it will automatically increase the level of stimulation as your dog continues to bark. This is the most effective technique to distract your dog from barking.

Then, it will automatically reset to the level you have programmed for your dog. So, the next time your dog goes on a barking frenzy, he/she will not immediately get corrected by the highest static level, it will just progress - this is the best way to train dogs to bark at acceptable levels.

SportDog Bark Collars are perfect for medium to large sized dogs. The protective feature, Patented Perfect Bark Technology, makes these bark collars even more reliable, because this feature uses both sound and vibration from your dog's vocal cords as he/she barks before the static correction is activated - this is to avoid accidental "zaps" caused by other external noises especially from other dogs around who are also barking.

Thus, your dog is safe from wrong stimulations and overcorrection.
Using a Remote Dog Training Collar definitely helps you train your dog in the fastest and easiest way possible.
However, always remember that the success of reinforcing positive behaviours to your dogs require consistent and persistent training - the collar is a mere convenient tool.
SportDog stands for durability... The waterproofing on the dog training collar is exceptional - both the hand-held remote and the receiver collar are waterproof and can really take the knocks when camping, fishing, hunting or just general bushwalking. Plus, the 3-year manufacturer warranty has got you covered big time.
Now, distance is one of the most important things that you should consider when buying a remote dog training collar. We recommend getting a remote trainer that has a longer distance range - one that can cover your distance needs even more, especially if you have a hiking, hunting or working dog.
The multiple levels of harmless static corrections are designed to help you train or reinforce positive behaviours to your dog especially if you have a stubborn hound. Plus, the tone and vibration modes are great for warning or reward signal.
Now, if you have two or more sporting or working dogs, you do not have to purchase another remote - just get an extra receiver collar since most SportDog remote trainers can be expanded up to three dogs! Multiple dog training has never been this convenient.
PLUS, if you purchase the SportDog Remote Dog Training Collar from us, you will get an expert Step-by-Step Training Guide in your package with no extra cost. This also goes to the bark collars and electric dog fence kits.
Here are the benefits and features that come with these dog fence kits:
SportDog Electric Dog Fence and Collars are designed to effectively keepsafe and contain stubborn dogs. These systems are best for medium to extra-large dogs.
The 2 years warranty will surely cover you from any worries and possible lapses - this benefit is absolutely enough for your investment on a high quality dog fence system.
Now, the built-in Wire Break Alarm is one of the most essential features of these dog containment systems - if your wire breaks, for some unforeseen reasons, the transmitter will sound off to warn you of the breakage - this is a huge help. So, you can keepsafe your dog immediately as you find and fix the broken wire.
These systems also come with a Warning Beeper on the receiver collars - this is to signal your dog that he/she is coming near the boundary wire and that your dog should back off because after the warning beeps, he/she will get a static correction. Don't worry, it's a safe static pulse - it does not hurt your dog. However, it is annoying enough to distract your dog from escaping.
Also, it has been discovered that dogs "learn" that they can drain the battery on the receiver collar so they don't get stimulated when they try to escape - this is where the Anti-Linger Technology comes in.
Once your dog stays in the warning zone, his/her collar will start beeping… if your dog continues to stay in the warning zone (prolly attempting to drain the battery on the collar), he/she will then get the static correction to deter him/her away from the boundary wire. Hah! We must not be tricked by strong-willed,cheeky, dogs.
Now, if you have multiple dogs in your property, you can all contain them in just one system - no need to spend more money on additional kits. Just get extra receiver collars for your other dogs and you can all contain them safely and effectively.
Plus, installing the system is easy peasy - you won't have to call and pay for an electrician. Just read the easy-to-follow installation guide (along with the step-by-step training guide) and you're good to go. You can also call our B if you need help. We'll assist you with any queries you may have.
For serious dog sports enthusiasts, SportDog Tracking Devices are very popular and has been proven to be very helpful. These SportDog Tracking and Training Collar series can track and train up to 12 dogs at a single time. To address the intense outdoor experience, both the transmitter and the collar are waterproof. Click here for a complete list of features of the SportDog Tracking and Training Collars.