If there's a big dog in your life that barks more often than required, the PetSafe Big Dog Rechargeable Bark Collar may be one of your best bet to solve this problem. This review will give you information on the different features of the unit and why this can be one of the best solutions to your big dog's nuisance barking.
Petsafe Big Dog Rechargeable Bark Collar Review
Nuisance barking is a common problem for most dog owners in Australia. That's why Petsafe has introduced a Rechargeable bark collar for Big Dogs the PBC17-16000. With the strong implementation of Dog Act 1976 across the country, in some areas, it may only take one nuisance barking complaint to start the investigation on your dog's nuisance barking behaviour.

These new barking Dog laws have been taken seriously now that houses are built closer to each other and we have more busy lifestyles. These investigations take so much of your time and are also bad for your dog. Here is a small sample of the legislation on nuisance dogs and barking Dog Legislation: 1 Strike Policy for Nuisance Barking article.

Dogs are our best friends and we don't want them taken away because of their excessive barking. Big Dogs Barking can be harder to deal with due to their size and temperament. That is why there are different products in the market today that will help you train and take care of your dogs while making you the "good guy" in your pet's eyes. We know you love your dogs but their barking should be trimmed down to an acceptable level and should only occur when it is most needed.
Petsafe PBC17-16000 has 3 Bark Control Modes
The Petsafe PBC17-16000 Rechargeable bark collar has 3 Bark Control Modes which will let you choose how your dogs are corrected. This is one of the smartest bark collars in the market that offers this kind of technology.
Temperament Learning Mode means that as your dog continues to bark, the PetSafe Rechargeable Big Dog Bark Collar will gradually increase the level of static correction until it detects that your dog has stopped barking.
The next time your dog starts barking, the collar will use the most effective correction level your dog needs to stop him from barking. The level of correction will decrease as your dog learns to lessen his nuisance barking. There is also a 'reset' switch so that the Bark Collar will clear the memory and start self-learning again.

This is a great feature for not 'over-correcting' your dog - and it all happens automatically.
Progressive Correction Mode - Automatic Bark Control.
This mode is common with most bark control collars in the market and is called the automatic or progressive correction feature. The level of correction your dog receives will automatically increase as he continues his barking and will reset to level 0 after 30 seconds of silence.

The idea is that the dog will learn what is worth barking at - and only bark when really necessary.
User-Selected Correction Mode - You choose the Barking Control level.
This mode on the Petsafe Rechargeable bark Collar for big Dogs will let you manually set the level of correction to train your dog's nuisance barking. We recommend that during the start of the training, you will set it to the lowest level and gradually increase until your dog will react to the correction. Only use this if you know what you're doing.
Perfect Bark Technology for Accurate Bark Detection
The PetSafe PBC17-16000 Bark Collar uses a dual detection system that can sense both the vibration on the throat area and the sound your dog actually makes because it has an inbuilt microphone.
With both the vibration and the audio sensors, you will be sure that your dog will not receive a static correction unless he/she is barking.
3 year Warranty on the PetSafe Big Dog Bark Collar.
We liked many things about this unit - but for buyer protection and long-lasting peace of mind, a 3 year warranty is just Gold.

You may not need to use the Big Dog Rechargeable Bark Collar collar permanently if you follow the training guide we include in the kit, but… bad habits can return so with the warranty in place you know it will be good to go when you need it.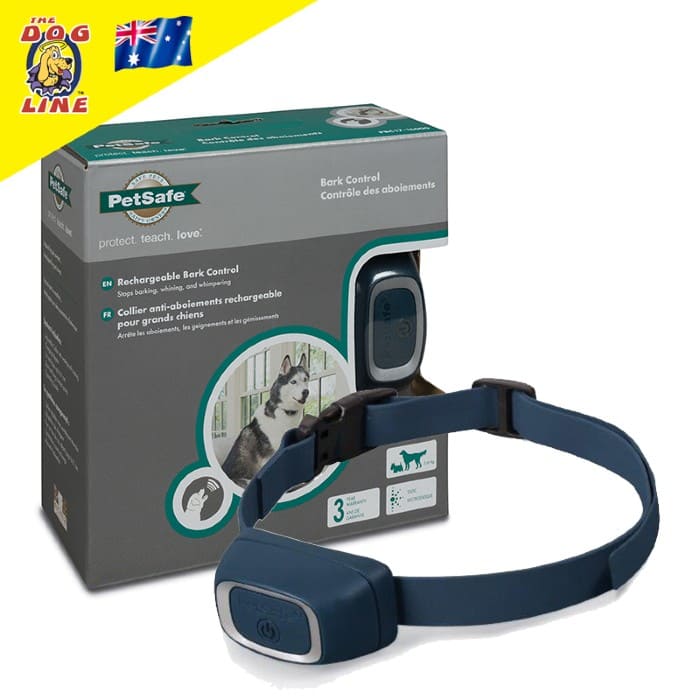 The Petsafe PBC17-16000 Bark Collar for Big Dogs is actually not that big and is waterproof, sturdy and reliable. The face of the bark collar has no external controls which mean that nothing's going to be scratched off or settings changed accidentally.

Its front face is sturdy to keep it safe even if it gets scratched or knocked into concrete or the wall. It also has a digital display that will show the battery life and selected correction modes.

The batteries can last up to 6 months depending on how often your dog barks and the level of correction he receives. The charger kit for your bark control collar is already included in the package. The batteries are non-replaceable.
What's our final thoughts for Big Dogs and Bark Control?
Our dogs are really extensions of our family, and we want to have a peaceful and loving relationship with them. That is why the PetSafe Big Dog Rechargeable Bark Collar is one of the perfect solutions to reduce the length and number of times your dog's bark on certain occasions and bringing the barking levels down to an acceptable level.

Please call or chat with us so we can discuss your dog's barking problems and find the best solution for you.

Here for you and your dog,
Colin Seal