Can dogs still bark on emergencies even with a Bark Control Collar on?
This is an age-old question that we still get asked today. We address this question again and further discuss this question in detail.
Can My Dog Bark On Emergencies?
If you're here to find a quick answer then yes, dogs can still bark during emergencies even when their barks are being controlled or trained by Bark Control Collars and other Bark Control solutions.

First of all, Bark Control Collars or Anti Bark Collars or Bark Collars or whatever name you want to call them, controls or trains your dog on how to reduce the nuisance or unnecessary barking down to a minimum level or eliminate it completely. It is not designed to completely stop barking which is what our dogs are meant to do during emergencies.

Dogs have several levels of bark. The nuisance barking is usually a low-level bark which can be trained or eliminated using a Bark Control Collar. Our dogs' bark during emergencies usually requires lots of adrenaline and this happens during these events:
Unfamiliar face in the house
Intruders
You getting in the car
About to take your dog out for a walk
When these kinds of events or other similar events happen, the dog's excitement or adrenaline level goes over the control of the Bark Control Collar and your dog isn't even going to notice it.

While that's a good thing, improperly using these collars can also lead to bad effects on our dogs. If you set the collar's level too high or get the wrong collar, the level of intensity could be too high for your dog and can prevent him from barking completely. We do not want this to happen which is why we always recommend starting at the lowest level and working your way up until you get an appropriate response. There's no need to set the collar to a really high level because all we need is a slightly irritating distraction that they can feel.

Here's a small infographic to show you on what we're looking for: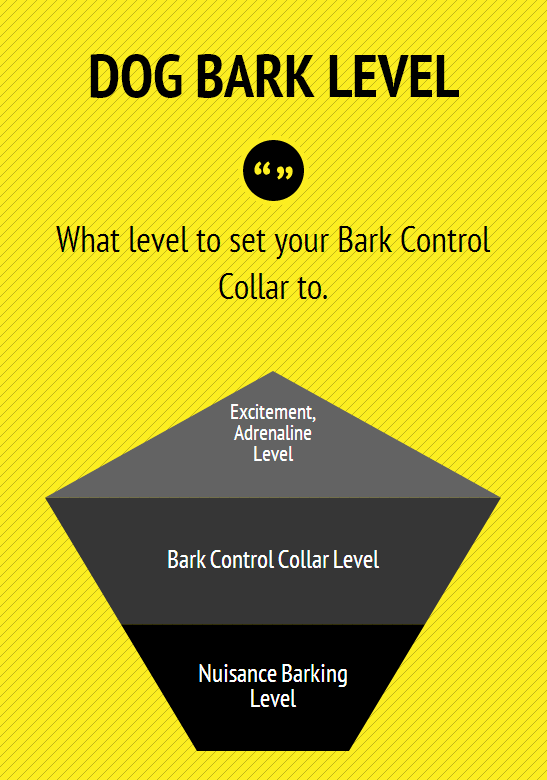 Some Related Features
More advanced bark collars have features that make training a bit more convenient for you or add a little bit more safety for your dog. Depending on your dog's personality, some of these features may be unnecessary or when you're on a budget. It's always good to know what you need for your dog.
Progressive Levels
Some bark collars have progressive levels. These are collars that automatically increase progressively as your dog's bark gets more frequent, thus controlling it. Our bark collars allow several barks in between each level increase so they don't give your dog stimulation on every single bark.
Safety Cut Off Feature
Some bark collars feature a safety cut off feature. This prevents the collar for excessively giving your dog stimulations if they bark several times in a few short seconds. This helps when your dog is harder to train.
Bark Detection
We have more advanced collars that have dual activation requiring both vibration and sound to simultaneously activate the collar. Our other collars activate by either sound or vibration and they all have been calibrated to detect your dog's bark as accurately as possible with minimal risk of accidental activation. Low-quality bark collars may have similar features as ours but the slightest scratch or bump against it will activate the collar.
Choosing the Right Bark Control Collar
Choosing the perfect Bark Control Collar for your dog is crucial. It only takes one slight mistake to leave a permanent mark and scare your dog but doesn't be afraid to read the descriptions and get one for your dog on your own. Remember to always set it at the lowest level if its user-adjustable and work your way up if it's not effective.

If you're not so sure you're picking the right one, give us a call and we'll help you pick on for your dog.


Here for you and your dog,
Colin Seal