Christmas Photo Contest and their winners. We received lots of great Christmas themed photos of dogs with their owners and we pick the best ones!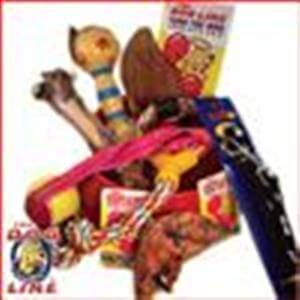 The Happy Winner and the Hamper

Thanks for joining the contest Ms. Cindy Pryt!
Get your dog a special gift this Christmas with the Christmas Gift Hamper from us over at The Dog Line. Get several types of toys and treats at discounted prices and let your dog feel the Christmas spirit while you and your family open your gifts from under the tree.

So, last December 25-26; we did a photo contest to our Facebook followers. They were to submit a photo of their dog with their best Christmas present. The more "christmassy" the photo the more chances of winning.
Here's how it works.
1. Post a photo of your dog with his Christmas Gift. (The more "Christmassy" it looks, the better)
2. Tell us about your dog and his Presi.

Guidelines:
1. All entries must be from Christmas 2014 and be original images taken by the owner... It should not include watermarks, signatures, frames or copyright seals.
2. 3 LUCKY WINNERS will be chosen by THE DOG LINE team. Each winner will get A Dog Line Hamper.
3. Entries must be posted on our page within December 25th and 26th. (Christmas Day and Boxing Day)
4. You can post ONLY ONE ENTRY per Facebook Account or 1 entry per pet.
5. Winners will be announced on our page on December 27th.
6. Prizes will be posed to Australian residents; however our overseas members can nominate a charity to receive their prize.
THE THREE LUCKY WINNERS ARE...
Klaudija Sema, Cindy Pryt and Kylee Thompson
CONGRATULATIONS!! Please reach us via Facebook PM, email @ helpdesk@thedogline.com.au or call 1300-THE-DOG OR 1300-843-364 to claim your prize!!
Here are all the entries...
Jaime Hughes "A Peter Alexander bowl for my little doxie" December 25 7:33 PM

Susan Bowerman "Ollie playing with his new black sheep" December 26 10:20 AM
Tina Nielsen "Charlie has decided to carry his rat around everywhere" December 26 1:06 PM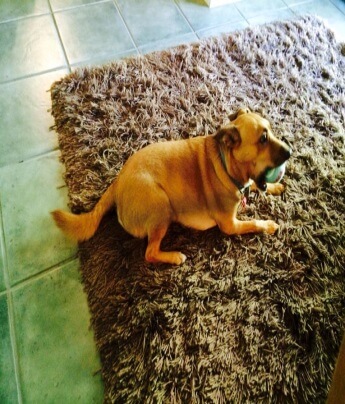 Sam Morgan "New ball for Jack;he got a Xmas stocking with treats & a few toys" 12-25 6:19PM
Klaudija Sema sent this on December 25 @ 5:26 PM
Cindy Pryt "Lola and her angry bird" sent on December 25 3:15PM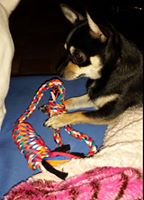 Cindy Pryt "Primrose with her rope toy" sent December 25 @ 3:16PM
Ashley Stoker "Timmy stole Buffy's toy" sent December 25 @ 4:18 PM
Heidi Ford "One of many" sent December 25 @ 6:42 PM

Amanda Ceccomancini sent this on December 26 @ 1:09 PM

Kylee Thompson "My dogs got matching Hawaiian outfits" December 26 @ 1:14 PM
THANK YOU SO MUCH FOR JOINING. WE LOOK FORWARD TO MORE OF
CONTESTS LIKE THIS IN 2015! HAPPY NEW YEAR TO ALL!!
In the meantime, check out our Dog Hampers

Here for you and your dog,
Colin Seal