Pet Barrier Dog Fence for Big Dogs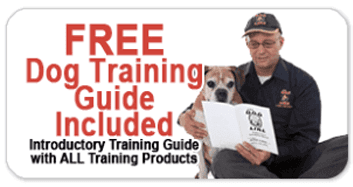 This is a high-quality Electric Dog Fence kit for a small property to help keep large dogs or small dogs from escaping or destroying gardens... Absolutely NO SIGNAL BOUNCE!
Now you can give your dogs all the freedom of the back yard with a small radio signal to keep them away from the fence - you get full control over the small dog fence radio signal and the receiver collar for your dog. Adjust the depth of the signal to give your dog more room AND... adjust the strength of the receiver collar to make training very easy and safe.
You can put the dog fence wire in your existing fence or gate. If not, it can be easily put underground too around your property or certain areas like your garden beds.
The complete Pet Barrier Invisible Dog Fence kit comes with all the necessary devices you need to successfully keep your dogs safe within your assigned perimeter. It is also very easy to install! You can also avail of our 7-day helpline if in case you need any assistance from us.
Reduced Price

NOW $460.00

Complete 1 Dog Kit

If you didn't find what you need, please contact us at 1300 THE DOG (1300 843 364) or click the quotation icon below so we can send you a more customised quotation that's fitted to your needs and specifications:

What to expect with your Electric Dog Fence?
A UNIQUE FM RADIO FREQUENCY
NO MORE SIGNAL BOUNCE... The FM frequency PLUS our ADJUSTABLE transmission from the circuit board allows small and detailed areas - (30cm signal or 2meter signal depth) - The Dog Fence signal can be used on small properties. (A 5-ACRE DOG FENCE "may not like" small areas - - - it's just Toooo cramped for them - - So they may BOUNCE!
5 Key Ingredients... that make a BIG difference to your dog's safety...
1. ABOUT OUR POWER PLUG.
3 PINS - INCLUDING AN EARTHING PIN.
A Green Earthing wire...This wire diverts energy from lightning storms or power surges in the boundary wire AWAY from the circuit board... This also gives YOU a SURGE WARRANTY - and - SAVES YOU MONEY. (our 5 year warranty includes fusion damage) Without the surge protector, lightning can easily destroy your transmitter.
15V Regulated power transformer.
2. THE FM RADIO TRANSMITTER.
(No interference or 'false correction' worries)
5 Year Transmitter warranty (includes fusion and lightning damage)
Coded Digital FM radio frequency (Stops interference and Radio Signal Bounce)
Radio Signal depth Adjustment - - - 30cm OR 2 meters from the wire.
Wire Break Alarm
3. A CODED "FM" RADIO SIGNAL.
Coded Digital FM Frequency - Won't interfere with other signals.
Won't make your TV go FUZZZY...
Dog's collar will not pick up STRAY Radio signals.
YOUR NEIGHBOUR'S DOG FENCE WILL NOT AFFECT OUR SIGNAL EVEN IF THEY ARE USING THE SAME BRAND!

4. STRONG DOG FENCE WIRE.
Attach our wire to ANY fence - Bury it under anything - Leave it on the Ground! Lay it next to a ColourBond metal fence... (others can't do this)
5. AND... OUR DOG FENCE COLLAR
HDPe Coating for UV protection. (20year UV life)
Seven Strand 1mm Copper Core (VERY Strong- Superman strong)
In 100m OR 200m Rolls.
DOES NOT NEED TO BE BURIED
Water Proof and Submersible
Lifetime Dog Fence Collar warranty (including dog chews)
5 programmable levels in each dog fence collar (for easy easy INDIVIDUAL Training)
up to 2 year replaceable battery (SO... It Saves Money AND Time)
Fast React - Tri Antenna (stops dogs Running Through)
Available for LARGE - small - and STUBBORN DOGS
THE COMPLETE DOG FENCE KIT FROM THE DOG LINE
Our Pet Barrier Dog Fence for small properties comes COMPLETE as a DIY kit

It's ready to plug-in on the bench straight out of the box - easy easy easy...

*Each kit contains everything you need for 1 dog and the first 100m of wire - an Installation guide, owners manuals, and training flags.

*Our 2mm HDPe wire can be attached to a fence, buried under gates and driveways or simply laid on top of the garden to mulch over.

*You have our Seven Day Help Line for support and our 100% guarantee of success.

*You don't have to worry about it working for your dog - We guarantee it!
Read what our customers had to say... here.
A helpful article about how to make a dog enclosure, read here.
We give you a 100% Money back Guarantee of success. Download your Pet Barrier Poster here.

How to order a Grounds Keeper...
The Dog Fence Kit comes ready to plug in, as a package for 1 dog (small or large) - it includes a Dog Training Guide - Installation guide - Surge-protected transformer - FM Transmitter - one dog receiver collar and the first 100m of wire. Backed up by our seven-day helpline.
Select the additional dog fence collars and any extra wire.
* Add extra rolls of wire (100m is included)
- Garden Beds - 100m wire included.
- 1/4 Acre or 1/2 acre Add 1 extra roll.
- 1 Acre add 2 extra rolls.
* Add additional collars for more than one dog.
Easy DIY -
We post our kits via Epost - registered and insured - delivered to your door.
Our Seven Day Dog Helpline is available if you need to chat whilst installing your kit.
The Pet Barrier - Transmitter
Our Dog Fence transmitter has our surge-protected transformer and a full surge protection guarantee. The 5 year warranty also covers fusion damage or minor surge damage to the circuit board (An industry-first). As with all our transmitters the range is fully adjustable to give you the flexibility of signal depth. Some dog containment kits have trouble doing small garden layouts or gates but the Grounds Keeper has no problems using the coded digital FM radio frequency for accuracy.
Surge/Fusion protected - Coded digital FM Signal.
Dog Fence receiver collar
The Grounds Keeper kit comes with the System1200 receiver dog collar. You can interchange any of our receiver collars to get the right match for your dog. Simply select the receiver dog collar from the drop-down list.
The Dog Fence Transmitter Details
- Covers up to 1 acre (100m Included in Kit)
- Safelink? Coded Digital FM Radio Frequency
Your dog won't be affected by other radio signals
Neighbour's radio fences won't affect your fence
And your TV won't go fuzzy with our radio signal.
- 3 year warranty including fusion damage. - Surge protected power transformer - Signal depth indicator - Wire break alarm
FM 1200 Receiver (included)
Interchange with a receiver of your choice for small and/or determined dogs.
- 5 programmable levels (for easy and comfortable training)
- Safelink? Digital FM Receiver
- 2 year battery life (replaceable No Recharging necessary)
- 3 Directional antenna in the receiver - It works even when it's upside down.
- Fully waterproof
- Full CHEW warranty (so strong we'll replace it if chewed)
- Receiver size 5.5cm x 4cm x 2.5cm.
Not activated by other stray radio signals.
Protects against false radio signal activations
No worrying about flat batteries.
Ask us what 'Anti Linger means'