Copy-Cat Coco
Coco is a fast learner.. When Lea needed to fix the TV antenna, Coco decided that copying mum was a good idea. So when mum put her outside to play.. She did.. she jumped up on the wall - just like mum did, then jumped on the pergola roof - just like mum did. But then, Coco decided to clamber over the roof to jump off at the front of the house and promptly toddle off down the street. Well, who would have thought?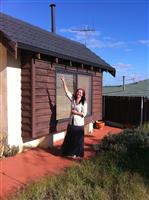 It all turned out OK; Coco has her own tag with a phone number and is also microchipped. Well done Lea.
BTW.. Lea adopted Coco from the RSPCA and has taken her to local Puppy training classes to get her well socialised. You can help re-home a dog through the dog rehoming charity we support. Visit SAFE here..

The Pet Barrier solution.
Lea put out a call through our Facebook page to see how we could help. After a bit of a chat we found that the Ground Keeper Pet Barrier and hidden fence was the way to go; an invisible dog fence for Coco. Coco is an American Staffy who can be quite determined so the programmable levels on the receiver collar really made the training comfortable for Coco and helps teach Coco to stay away from the radio signal. For more product reviews, visit here.

The wire was run through the garden bed to cover the area that Coco used to get to the wall, an added bonus is that Lea now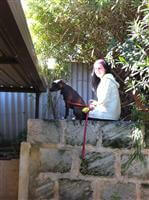 has a 'Coco Free' garden bed. The benefit of using our coded digital FM radio frequency is that it did not jump on to the metal pergolas roof and prevent Coco from using the area. The system also allowed for the intricate layout and a small radio signal.Well Coco is safe and Lea doesn't have the worry of Coco injuring herself when jumping off the roof or traveling down the road. Lea was also worried that someone might take a liking to Coco and she would never see her again.


Well done for rescuing Coco and taking such good care of her Lea.


Here for you and your dog,
Colin Seal