If your Dog Fence Wire breaks - Your Dog Escapes.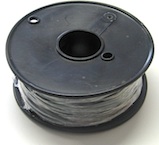 The Pet Fence Wire you select is a critical element in a for Dog Containment.
- HDPe Coating - a 20 year UV rating for long life.
- 7 Strand Copper Core - for reliability.
- 1mm copper core - for Stregth.
Why do I need Good Quality wire.
The radio signal 'Clings' on to the internal copper core.
The wire is actually the arial to the transmitter so having a good solid core for the radio signal helps to maintain the integrity of the signal. Thin wire does not create a good base for the signal and can lead to radio signal 'Bounce'.
No Need to bury our Pet Fence Wire.
This product is unavailable or out of stock.
The HDPe coating means our wire can be hung on a Fence and buried under any driveways or gates. PVC or UV stabalised wire will break down in the Sun in Australia. Wire Breakages are the biggest cause of concern for Dog Fence owners.
How Deep can I Bury the Dog Containment Wire
The Dog Containment wire can be buried under driveways or gates or just under lawn... OR just lay it on top of the garden to make it easy to find. The Radio signal being FM will go through Concrete or bitumin. Our Instalation guide has details on how and where to burythe wire.
Good Wire means Less Stress

- No Need to Bury it.

100m is included in the Kit

Sizes.
100m Rolls
200m Rolls
500m Rolls


| | | |
| --- | --- | --- |
| Area of | Perimeter | Extra Rolls to |
| Block in | in METRES | Purchase |
| ACRES | | |
| .1/4 (1000 Sqm) | 140 needs 200 | 1 |
| .1/2 | 180 needs 200 | 1 |
| .3/4 | 260 needs 300 | 2 |
| 1 | 280 | 2 |
| 1.5 | 320 | 3 |
| 2 | 360 | 3 |
| 2.5 | 400 | 3 |
| 3 | 500 | 4 |
| 4 | 500 | 4 |
| 5 | 600 or 700 | 5 or 6 |
| 6 | 700 | 6 |
| 7 | 700 | 6 |
| 8 | 800 | 7 |
| 9 | 800 | 7 |
| 10 | 805 | 8 |
| 12 | 900 | 8 |
| 15 | 1000 | 9 |
| 17 | 1100 | 10 |
| 20 | 1200 | 11 |
Here for you and your dog,
Colin Seal