Merchant Review
Independent reviews are important to our customers which makes them important to us. We use the independent reviews service from Reviews.co.uk to collect both company/service and product reviews.
Verified Customers Only
All reviews you see on this website (and on the Reviews.co.uk website relating to Crusader Gifts) are from verified customers and are independently collected.

Aussie Buyer Protection
Trouble Free Guarantees
Lowest Price / Best Deal
7 Day Support Line
Proud Aussie Family Business (Since 2003)
Free Dog Training Guide
Supporting Animal Rescue
Have a Question? Prefer to Order by Phone?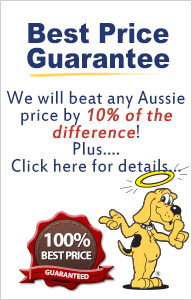 Best Deal Guaranteed

Free Training Guide

Shipped Same Day

14 Days 'Trade Up'

14 Day 'Trade up' Guarantee