Home
> The Dog Fence Receiver Collar
The Dog Fence Receiver Collar


What is the Receiver Collar?
The Receiver Collar is used to train the dog to stay away from the Radio Signal produced by the Transmitter which goes over the Wire.
Watch how it works

The Dog's Receiver Collar will react to the Radio Signal by giving a Mild Static Pulse. You can adjust the levels to train your dog to ignore the temptation to escape.

How does the Receiver Collar work?
The Receiver Collar is programmed to detect the Radio Signal from the boundary wires and react. We have 2 sections in our signal.
- The Warning Zone: This is where the collar will let off a beeper for 15 seconds before a quick 'Pulse'.

- The Correction Zone: This is where the collar will give the dog the 'Pulse' at the level you choose.

How Reliable is it?
The Receiver Collar is a separate and independent unit. It doesn't wait for the transmitter to tell it what to do and has a super fast reaction time of 1/8th of a second.

This means that even if your dog charges towards the boundary, he will get a correction from the collar very quickly.

Unlike other systems where the Receiver Collar is controlled by the Transmitter. It causes slow reaction times and the dog can skip across the boundary if they try.
- Reaction time
- Adjustable Levels
- Detection Aerials
- Battery life
- Durability of the Collar
All of these are crucial to the long term success of any system. And we've got it all covered.

Other Features of the Receiver Collar


- Warranty - 3 years for Mini and Standard Size. Lifetime for Premium Receiver Collars. This includes dog chews.
- Anti-Linger - If the dog sits close to the Warning Zone and just listens to the beeper, the Receiver Collar will react and get the dog out of the Warning Zone. This feature save Battery Life.
- SafeLink® FM Digital Frequency - The collar will respond only to your own Electronic Dog Fence.
- AutoMemory® - Auto Level Increase and Reset for Stubborn Dogs.
- Up to 5 Programmable Levels - 8 Levels for Premium Collars.
- FastReact® - 1/8th of a Second Reaction Time.
- TattleTale® - Notifies of Activity.
- Up to 2 Years Battery Life.
- Fully Waterproof and Submersible.
- Tri-Aerial System for Great Reception.
- Automatic Shutdown Feature for Safety.
Premium Range Of Receiver Collars

Aussie Buyer Protection
Trouble Free Guarantees
Lowest Price / Best Deal
7 Day Support Line
Proud Aussie Family Business (Since 2003)
Free Dog Training Guide
Supporting Animal Rescue
Have a Question? Prefer to Order by Phone?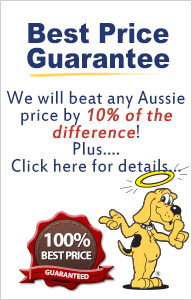 Best Deal Guaranteed

Free Training Guide

Shipped Same Day

14 Days 'Trade Up'

14 Day 'Trade up' Guarantee