Feed Bowls
Elegant Stainless Feed Bowls and Automatic Feeders
We have a large selection of dog feeding bowls with one just right for your dog.
Our automatic feeders take away all the worry of mealtimes.
Stuck in traffic? No matter!
Auto feeders ensure your dog is fed on time and with the prescribed amount.
Here for you and your dog,
Colin Seal

Best Deal Guaranteed

Free Training Guide

Shipped Same Day

'Trade Up' - Trade In...

6 Month Trade In Guarantee

Aussie Buyer Protection
Trouble Free Guarantees
Lowest Price / Best Deal
7 Day Support Line
Proud Aussie Family Business (Since 2003)
Free Dog Training Guide
Supporting Animal Rescue
Have a Question? Prefer to Order by Phone?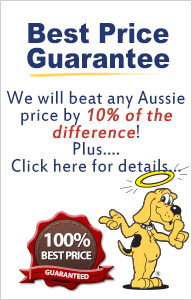 Best Deal Guaranteed

Free Training Guide

Shipped Same Day

14 Days 'Trade Up'

14 Day 'Trade up' Guarantee