Home
> Pet Water Fountain: Dogs & Cats Drinking Dispenser
Pet Drinking Fountains - Water Dispenser
Dog and Cat Water Fountains
If your dog or cat is often left home alone, you should make sure that your pet is getting enough access to clean drinking water.
Good thing, we have cool water dispenser or drinking fountains that you can easily set up for your pets.
Most of these pet water fountains can be adjusted to your desired water flow to avoid too much noise and water splashing - some also contain filters for safer drinking water for your cats and dogs.
Choose Your Pet Water Fountain Here: :

Aussie Buyer Protection
Trouble Free Guarantees
Lowest Price / Best Deal
7 Day Support Line
Proud Aussie Family Business (Since 2003)
Free Dog Training Guide
Supporting Animal Rescue
Have a Question? Prefer to Order by Phone?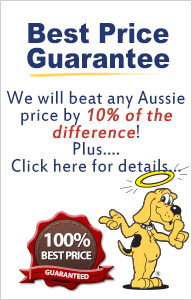 Best Deal Guaranteed

Free Training Guide

Shipped Same Day

14 Days 'Trade Up'

14 Day 'Trade up' Guarantee