Home
> Automatic Pet Feeders - Timed Dog Automatic Feeders
Pet Automatic Dog Feeders and Timed Cat Feeders
Dog and Cat Timed Meal Feeders
Don't let your dog and cat miss a meal again… or tend to over eat if he or she is often left home alone. Get an automatic dog feeder that will help you maintain a healthy diet for your dog even if you're often away - get rid of the worry!
These timed dog feeders can be set according to how often you feed your dog in a day. These automatic dog food dispensers are mostly operated by long-lasting batteries.
State of the Art and Durable Polypropylene Material Pet Feeders that withstand the pets playful stunts .
Auto feeders will keep your dog and cat fed on time and right amount of food intake. You can find tasty and healthy dog treats here.
Get Your Pet a Auto Feeder here:

Aussie Buyer Protection
Trouble Free Guarantees
Lowest Price / Best Deal
7 Day Support Line
Proud Aussie Family Business (Since 2003)
Free Dog Training Guide
Supporting Animal Rescue
Have a Question? Prefer to Order by Phone?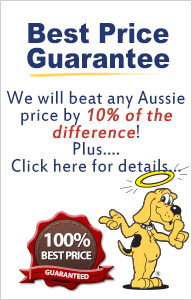 Best Deal Guaranteed

Free Training Guide

Shipped Same Day

14 Days 'Trade Up'

14 Day 'Trade up' Guarantee